Can you share fake live location on WhatsApp to prunk your friends? A user asked on reddit.com
Yes! You can share fake live location on WhatsApp whether you are an iPhone or Android user. You only need to use the right tools and apps, and your location will be changed instantly. The best part is that no one will be able to figure out you have shared the fake location.
Let's dive in.
Part 1: How to Share Fake Live Location on WhatsApp iPhone Without Jailbreak with iGPSGo
iGPSGo location changer is a reliable GPS location spoofer that changes WhatsApp live location of the device in no time. It is a desktop tool that you can use for faking locations on iOS and Android.
It offers multiple location-changing modes, including teleport, two-spot, and multi-spot. You can even use the joystick to move on the map in real time. It can be used to share fake live location on WhatsApp or any other social media application like Snapchat, Tinder, Life360 etc. It also works on games like Pokemon Go and region-restricted content.
You only need to follow a few simple steps to change the location. The best part is that it does not require jailbreak or root.
Step by step guide to Share Fake Live Location on WhatsApp iPhone
Step 1: Download iGPSGo from the official website and install it on your computer.
Step 2: Open the app and connect your iPhone to the computer.
Step 3: On the right side, you will see multiple options. For now, select Teleport.
Step 4: Enter the desired location on the search bar. You can enter the address or coordinates of the place you want to fake on WhatsApp.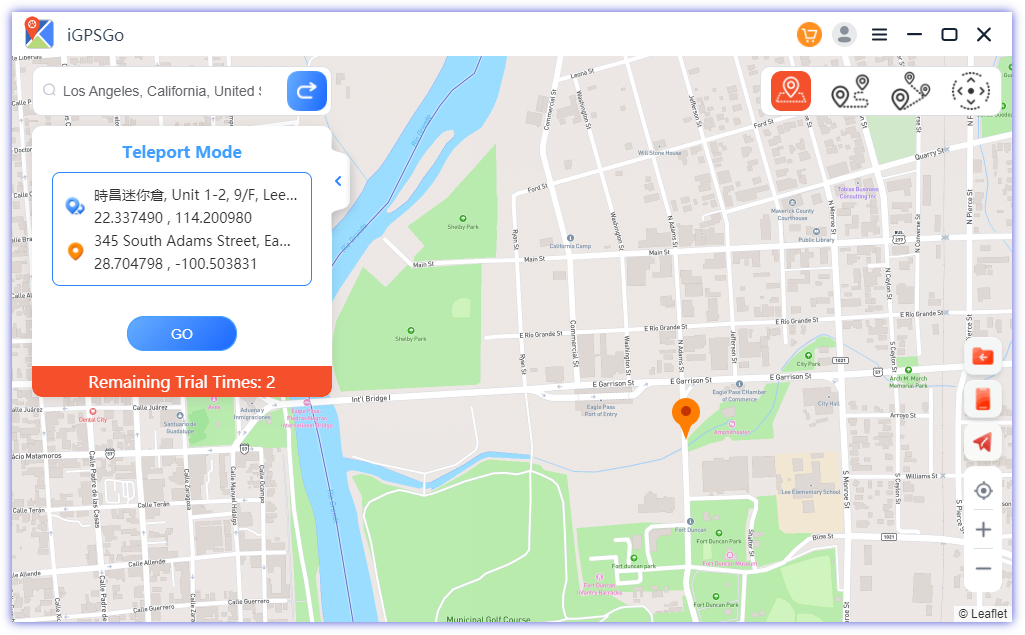 Step 5: Now, you will see the selected location on the map. Click Move Here. Now, your WhatsApp location will be changed instantly.
Step 6: Open WhatsApp and open the chat with whom you want to share the location. Tap on the paper clip icon and tap Location. You will see the virtual location on the map. Tap Share Live Location.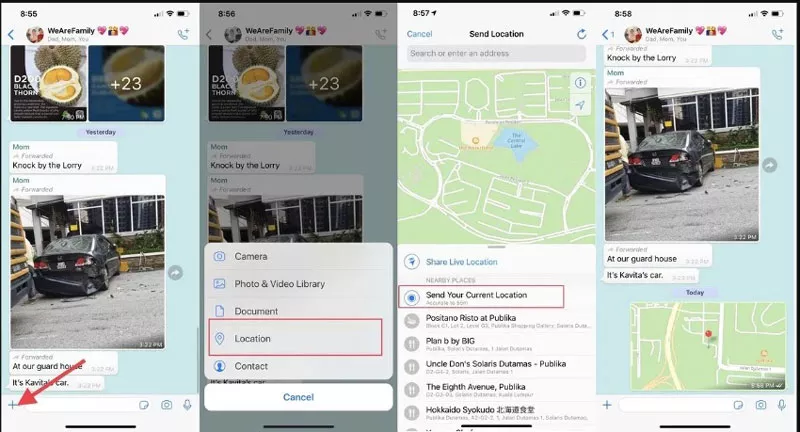 Part 2: How to Send Fake Current Location on WhatsApp Android with Fake GPS
Fake GPS Location is a popular app for changing the GPS location of Android devices. You can directly install it from the Google Play Store. It is free, and you can fake your current location on WhatsApp without any hassle.
Step 1: Install the application on your Android device.
Step 2: You have to allow the app to mock the location of your device. For that, go to Settings. Scroll down and tap About Phone. Find the Build Number and tap seven times. Once you are a developer, go back to Settings.
Step 3: Scroll down and tap Developer Options. Look for Select Mock Location App. Tap it and select Fake GPS.
Step 4: Now, open the Fake GPS app. Select the desired location for spoofing and tap on the Play button. Your location will be changed instantly.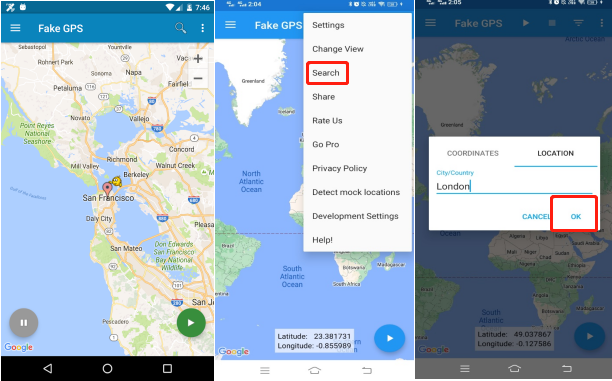 Step 5: Open WhatsApp and go to the chat. Tap the paperclip icon and then Locations. Finally, tap on Send Your Current Location.
Part 3: Which App is the Best Fake Location App for WhatsApp
| | | |
| --- | --- | --- |
| | iGPSGo | Fake GPS |
| Compatible Device | iOS and Android | Android |
| Supported Apps | All social apps, games, etc. | Limited |
| Safety and Reliability | Very safe location spoofing | Spoofing can be caught by apps |
| Multiple Spoofing Modes | 3 Modes | One mode |
| Joystick | Yes | No |
| Route Customization | Yes | No |
| Speed | Adjustable | No option |
| Historical records | Yes | No |
Part 4: Common Scenarios to Share Fake Location on WhatsApp
There are multiple reasons and scenarios to share fake location on WhatsApp.
Firstly, people want to maintain their privacy and do not want to share their exact location with siblings, friends, or others. Therefore, they share their fake location with them. They can travel anywhere easily and enjoy it without worries.
Secondly, it is an excellent way to prank friends and loved ones. You can fake your location with any country or region and share it with them on WhatsApp. For example, you might send a fake location to make it appear as though you're on an exotic vacation or visiting a famous landmark. They won't be able to figure out that the location is fake.
if you are playing with your friends at the bar, but your parents ask you to share real live WhatsApp location with them, Instead of refusing to share the location on WhatsApp, it is better to share fake live location on WhatsApp. It won't leave any clues behind.
FAQs about Send Fake GPS Location on WhatsApp
Why is the live location not updating on WhatsApp?
Make sure the application has access/permissions to your location and the location services are not disabled. These are the most common reasons behind false location on WhatsApp. If these are perfect, check the internet connectivity. Sometimes, due to a poor internet connection, the application does not update your location. Check your date and time settings on the device. They must be accurate. Turn off the battery saver mode and turn on the background data usage for WhatsApp. Finally, update WhatsApp and restart your device. If nothing works, there could be a problem with the device's hardware.
Can location be tracked through WhatsApp?
Your location cannot be tracked through WhatsApp. Everything is end-to-end encrypted, so you do not need to worry about that. Some people may use apps like mspy to track WhatsApp location, it is not legit. However, if you share fake live location on WhatsApp with your friends, he can track you for the duration you selected.
Can you detect fake locations on WhatsApp?
No, it is not possible to detect whether the shared location on WhatsApp is true or fake. If you are using a location spoofer, keep it turned on for the whole duration you selected for live location sharing. Once you turn the spoofing off, your real location will be shown on the live map.
What is the reason for red circle WhatsApp live location?
When you see a red circle on the live location, it means the internet of the sender is not working. Therefore, the location has not been updated. if the internet of sender is working properly, you will see blue circle around the sender's thumbnail.
Conclusion
You might have a clear idea of how to share fake live location on WhatsApp. You can use iGPSGo location changer for iOS or Android. For Android users, Fake GPS is also an easy option. Follow the steps and share fake locations on WhatsApp without any hassle.

William Hanger is a veteran Pokémon GO player with a passion that dates back to the game's launch in 2016. Having accumulated vast experience and expertise in the world of Pokémon GO, she has turned that knowledge into invaluable resources for the Pokémon GO community., William aims to provide clear and informative articles to help users navigate the world of Pokémon GO and maximize their functionality.