Pokemon Go players usually use a third-party app or service to get rid of physical walking and make their game more enjoyable through extra privileges. Pokemod is one of the dozens of applications available.
In this article, we will discuss whether Pokemod is legit or not. We will compare Pokemod with PGSharp to make your selection easier. Pokemod only supports android, we will also introduce pokemod ios alternative.
Let's begin!
Part 1: Pokemod Review? Is Pokemod Safe? Will You Get Banned?
Pokemod is a dedicated application to make Pokemon Go gameplay more enjoyable. It allows you to teleport to any location, catch Pokemon without any hassle, manage multiple Pokemon Go accounts, boost Pokemon spawn, and tons of other things that every Pokemon Go player would wish to have.
You can either use the free or the Pro version. The Pro version comes with extra features and costs $7 per month. Check out the features of these versions in the table below.
| Pokemod Free Version | Pokemod Pro Version |
| --- | --- |
| Perfect Throw | All Features of the Free Version |
| Show Encounter IV | PVP Metrics |
| Account Manager | Shiny Scanner |
| Instant Spin | vPGP²⁺ |
| Spawn Booster | Quest Tweaks |
| Show IVs in Inventory | Instant Loading |
| Instant Catch | Tap to Teleport |
| Boss Movests | Incognito Mode |
| Skip Encounter Intro | Performance Mode |
| Replace Name with IVsBlock Non-shiny Encounter | Headshot |
| Speed Mode | Team Rocket Blastoff 2: Reloaded |
| Integrated Mock Location Pack | Tamagotchi |
| | Team Leader Zero Hit KO |
| | Pinap Master |
| | Transfer on Catch |
| | Raid Pack |
| | Eggspresso |
| | Magic Bag |
Now, you might have a clear idea that the Pro version is more helpful because it offers tons of extraordinary features.
Now, coming to the question of whether Pokemod is safe or not. It requires a rooted device, though it's not safe for your phone, but it is safe for your Pokémon GO account. Pokemod is not a modded Pokémon GO app, it uses the original Pokémon GO. Compared to the PGSharp app, which uses a hacked Pokémon GO app, Pokemod is more safer. It offers various extra perks that are not available even in other third-party apps, so there is still a low chance of getting caught by Niantic.
You can get more pokemod info here: https://www.reddit.com/r/PoGoAndroidSpoofing/comments/15ktmpm/rooted_method_4_pokemod_enhancer_app_for_android/
Part 2: Pokemod Only Support Android, Try Pokemod for iOS alternative
Pokemod is only for rooted Android devices. For iOS and non-rooted Android devices, you need an alternative.
iGPSGo pokemon go spoofer is an excellent pokemod alternative. It can be used on all Android and iOS versions, and the best thing is that it does not require root or jailbreak.
By using iGPSGo, you can change location in Pokemon Go with one click. You can teleport to any location or create a customized route with the desired speed. It can also import GPX route files to go to special locations where the probability of finding rare Pokemon is high.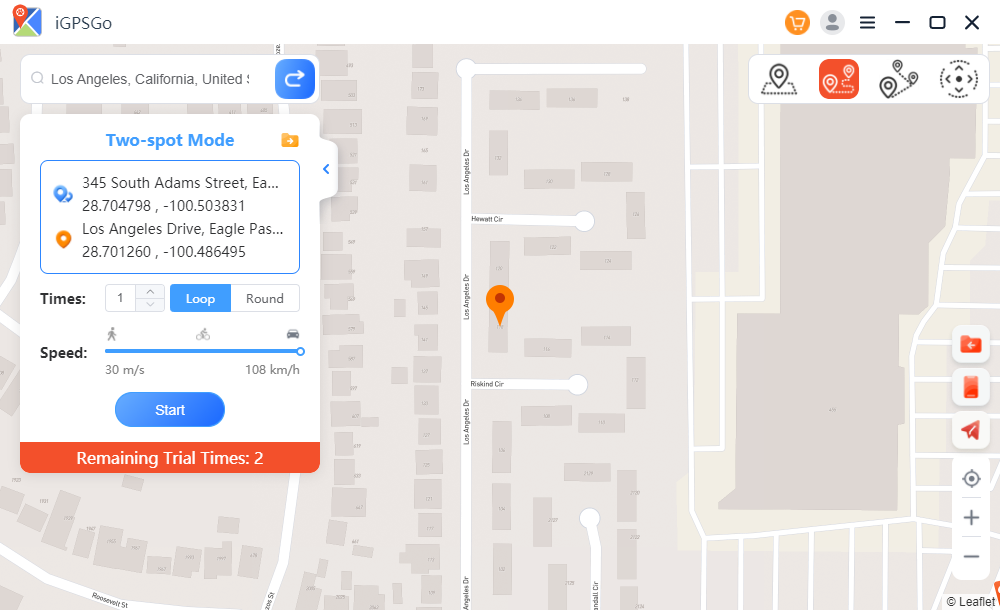 The GPS joystick feature of the app is excellent. You can move on the map in any direction and catch the desired Pokemon without any hassle, find less competitive gyms, and progress faster in the game. Most importantly, you can change the GPS location of up to 5 devices at a time.
While Pokemod is specifically designed for Pokémon Go, iGPSGo can be used not only with Pokémon Go but also with any other game or social media application. Try the free version before moving to the premium one.
Part 3: Pokemod vs PGSharp vs iGPSGo
| | | | | | | |
| --- | --- | --- | --- | --- | --- | --- |
| | Supported OS | Root/Jailbreak | Location Spoofing | Cooldown Timer | Monthly Price | Ban Rate |
| Pokemod | Android | Yes | Yes, Requires GPS Joystick by The App Ninjas. | No | $7 | Low |
| PGSharp | Android | No | Yes | Yes | $5 | High |
| iGPSGo | Android/iOS | No | Yes | Yes | $9.95 | Low |
Part 4: Do I Need Root to Use Pokemod, Can I Use It Without Root?
You can not use Pokemod without root. It is specifically designed for rooted devices, and it features work on such devices only. Pokemod uses root method to avoid getting detected by niantic.
If you have accidentally purchased it for your non-rooted device, it will not work. You can try PGSharp, iGPSGo, or any other similar tool to spoof pokemon go location without root and enjoy extra benefits in the game.
The official website states that Pokemod is only for rooted devices; however, it is mentioned at the end of the page.

If you are thinking about rooting your device for Pokemod, it would be a bad idea. There are tons of applications that work on non-rooted devices. Although you will not get extraordinary features like Pokemod, it is still better than having a rooted device that has security concerns. You can encounter viruses and experience data leakage.
Part 5: What is Pokemod Shiny Scanner Feature How to Use It
Shiny Pokemon are special and rare, which is why all players try to find them. However, it is difficult to encounter them on the map. You can only find them by using incense, and that is also not guaranteed though. Encounter shiny Pokemon requires a lot of luck..
Pokemod's Shiny Scanner makes finding shiny Pokemon a lot easier. It scans the shiny, legendary, mythical, and other special Pokemon. When Pokemod's Shiny Scanner is activated and you're in proximity to a shiny Pokémon, you'll receive a notification displaying the Pokémon's name. They show you the location of the shiny Pokemon with coordinates. In response, you should promptly tap it, as this feature will initiate auto-walking toward the shiny Pokémon.
Most importantly, you can copy the coordinates and change your location. Then, catch the shiny Pokemon in no time. Moreover, the Pokemod's perfect throw feature helps you catch the Pokemon and lowers the chances of Pokemon escape.
The Shiny Scanner feature is available for Pro users only. With this feature, you can have a wide collection of special Pokemon.
Part 6: Magisk Prompt Didn't Show up on the Screen to Grant Superuser Rights to Pokemod
If the Magisk app doesn't display superuser rights pop up, it indicates that your device is not rooted, and therefore, you won't be able to use the Pokemod app. Pokemod is an app for rooted devices, and it is a must to grant superuser rights to use the app.
If you didn't see the prompt, don't worry; it is a common issue with various OS. In most cases, the GPS Joystick blocks the prompt.
Step 1: Go to Magisk and tap the Shield tab.
Step 2: In the superuser screen, select Pokemod.

Step 3: Close the GPS Joystick and then reinstall Pokemod. This time, you will have the prompt.
FAQs about Pokemod
1. Does Pokemod have an official discord channel?
Yes, Pokemod has an official Discord channel. You can join through this link. But keep in mind that all rooms are only available to the premium users. If you have the premium version, you can post embeds and pictures in various rooms.
2. Does Pokemod use Modded Pokémon GO?
No, Pokemod works on the official version of Pokemon Go. Download the game from the Play Store and then attach Pokemod with it. There is no need to use any modded app. Use pokemon go modded app is the worst way to spoof, you will get banned quickly.
3. What is Pokemods.net?
The website is for the modified versions of Pokemon Go and third-party apps that make the game easier and offer extra benefits, such as location spoofing, perfect catch, spawn booster, etc. It is a website that has a collection of all Pokemon Go mods. You can only access this website from a mobile device as it does not work on a desktop. Pokemods.net is not the official website for pokemod app, you can download three apps from there include ipogo and pokecoins hack.
Conclusion
Pokemod offers incredible features to make the Pokemon Go gameplay more interesting and exciting. However, it works only on rooted Android devices. But keep in mind that you can also get banned by the developers for using this application. If you have a non-rooted Android device or iPhone, you can use other location spoofers and apps, such as PGSharp or iGPSGo.

William Hanger is a veteran Pokémon GO player with a passion that dates back to the game's launch in 2016. Having accumulated vast experience and expertise in the world of Pokémon GO, she has turned that knowledge into invaluable resources for the Pokémon GO community., William aims to provide clear and informative articles to help users navigate the world of Pokémon GO and maximize their functionality.