Want to Fake GPS location on your device to enjoy GPS-based applications?
There are various methods to change or spoof location on Android and iPhone. We are going to share some of the reliable and working methods you can try for free. These will change your location instantly and allow you to enjoy games and other applications to the fullest.
Part 1. Best Fake Location App to Change GPS Location on iPhone/Android Free Without Jailbreak/Root on Computer
iToolPaw iGPSGo is an ideal application to fake GPS location on iPhone and Android devices without leaving any trace. It does not require jailbreak or root. Free download iGPSGo now.
iToolPaw iGPSGo Location Changer Features
Spoof Pokemon Go without walking in realistic mode.
Simulate GPS movement through multiple modes and variable speeds.
Change the GPS location of up to 15 devices at a time.
Import / Export GPX file to use your favorite routes for Pokemon Go.
Most importantly, it supports Android 13 and iOS 16.
Follow a few simple steps to spoof GPS location for iPhone/Android with iGPSGo
Step 1: Download and install iToolPaw iGPSGo on your computer.
Step 2: Open the application and click Start. Connect your phone to PC with usb cable. You need keep your phone on to connect it.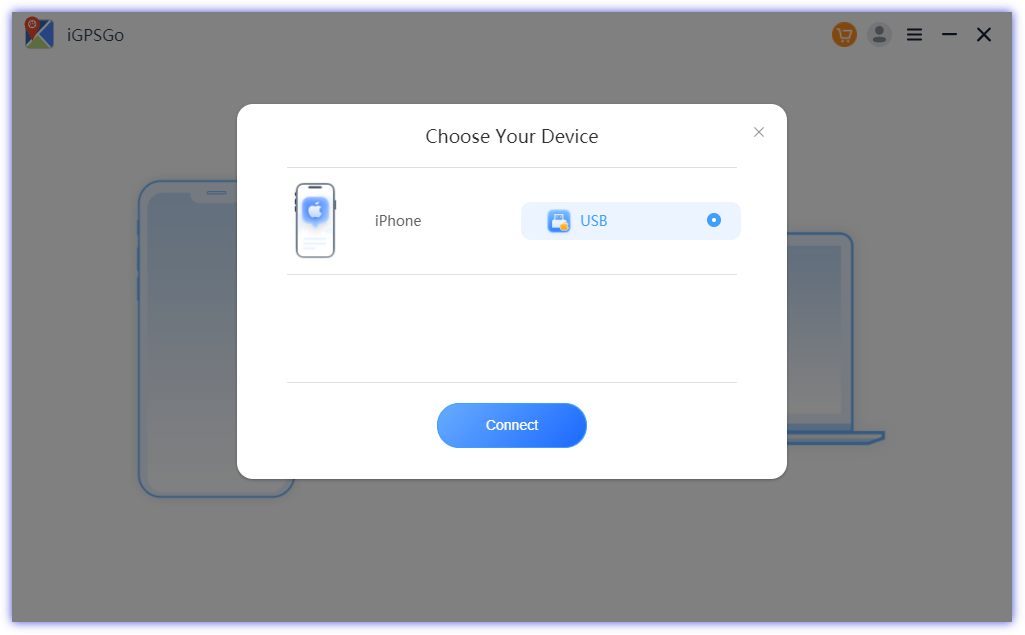 When you use it for the first time on your device, you need to enable developer mode on iOS 16 and USB debugging on Android. You will see the instructions on the screen.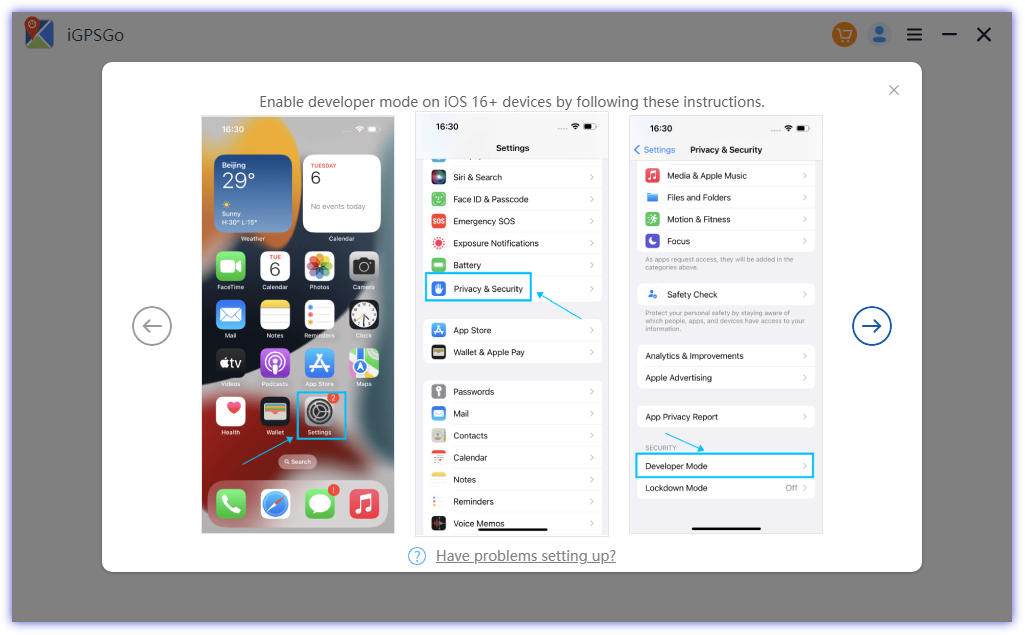 Step 3: You are ready to use the application. Select the mode, location, and start the location faker.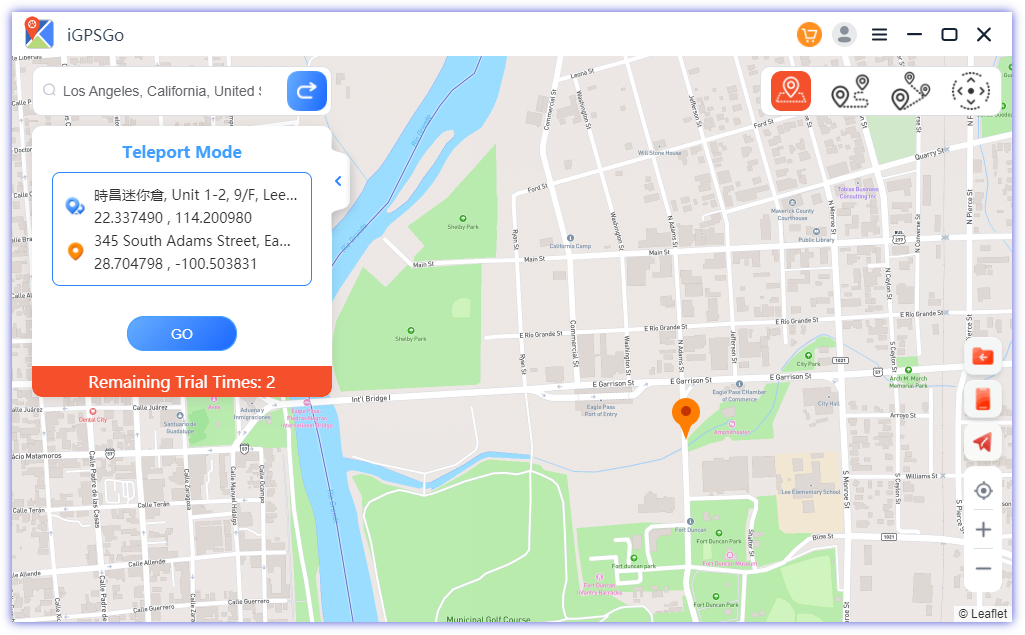 Part 2. iPhone GPS Location Faker App with Cydia Jailbreak Without Computer
If you have a jailbroken device, you have a wide range of options to choose from.
Firstly, install Cydia on your iOS device. It is an App Store for Jailbroken devices. There are tons of applications available on it, but those applications can be malicious. Your privacy can be breached. However, some applications or tweaks are quite useful and reliable.
Location Faker is a popular Cydia tweak. You can get it easily and fake your location on the device. It allows you to move anywhere you want through coordinates or searches.
Step 1: Launch Cydia and look for Location Faker.
Step 2: Install the app on the device and launch it.
Step 3: You will see a map with the current location. Now, search for the location through the search bar. You can also drag and drop the pin. After selecting the location, tap on the ON button to turn on location spoofing.
Part 3. GPS Location Spoofer App Without Root without Mock Location on Android
For Android devices, it is quite easy to fake GPS location without root. There are various applications available on Play Store, and you can use them without any hassle.
Fake GPS Location Spoofer is a popular application on Play Store. You can download it for free and enjoy the GPS-based applications to the fullest. The best thing about this application is that it is recently updated, and there are still frequent updates to make the application better.
Step 1: Open Google Play Store and install the Fake GPS application.
Step 2: Launch the application. Search for the desired location for spoofing. You can use the search bar. The application also allows you to create a route for automatic movement.
Step 3: Once you have selected the location, tap the Play button. It will spoof the location instantly.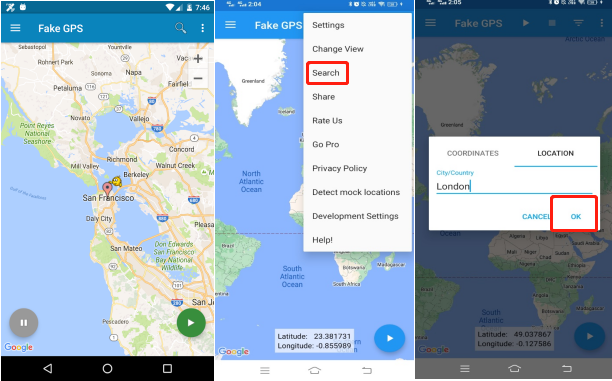 The notable feature of the paid application is the cooldown chart. It helps you prevent excessive location spoofing.
Part 4. Comparison Between iToolPaw iGPSGo, Location Faker, and Fake GPS Location Spoofer
| | | | |
| --- | --- | --- | --- |
| | iToolPaw iGPSGo | Location Faker | Fake GPS Location |
| Operation System | iOS and Android | Only iOS | Only Android |
| Root/Jailbreak | No | Yes | No |
| Cooldown Timer | Yes | No | No |
| Multiple Modes | Yes | No | No |
| GPX Route File | Yes | No | No |
| Joystick | Yes | No | No |
| No of Devices | 15 | 1 | 1 |
Part 5: Can You Use VPN to Change iPhone GPS Location?
The simple and one-word answer is "No." You can also get more vpn location spoofing tips from reddit.
A VPN cannot be used as a location spoofer because it cannot change the GPS location. Its main task is to change the IP address of the user to the IP address of the desired country. It is excellent for maintaining privacy. But it cannot change the GPS location.
When you change the IP address, the GPS location remains the same. These are two different things. Therefore, the change in IP address will not work for any location-based application.
However, some popular VPN applications also offer GPS location spoofing along with IP address change. These applications can be used for this purpose.
Part 6. Why People Don't Want Jailbreak to Spoof iPhone GPS Location
Jailbroken devices are not safe. They do not have a built-in security framework that protects your data and private information. It can be easily hacked, and any ransomware or virus can attack the device.
There are tons of malicious applications on jailbroken application stores. These are vulnerable to your security and privacy. You cannot trust them.
After jailbreaking, you do not receive security updates, system updates, and other things. You have full control of the device, so you have to protect everything on your own.
Thus, it is not a good idea to jailbreak an iPhone for location spoofing. You can use reliable applications to change location without jailbreak.
Part 7. Do You Need a Computer to Fake iPhone GPS Location?
There are methods that allow you to fake iPhone GPS location without a computer. For instance, you can jailbreak the device and spoof your location, but it is not a reliable method. You can also use a suitable VPN service that offers GPS spoofing.
However, the best way is to use a computer for iPhone GPS spoofing. The problem with this method was the USB cable, but now, you can spoof location over Wi-Fi. Just connect the device to the computer using Wi-Fi and change the location to wherever you want. It offers reliable spoofing of your location and can change location on multiple devices at a time.
Conclusion
You can easily fake GPS location on Android and iPhones using the right tool. The recommended way is to use a desktop tool, such as iToolPaw iGPSGo. It is an ideal option for iPhones and Androids. However, you can also go for other applications if you are using an Android device. But keep in mind that GPS-based applications can ban your accounts if you get caught. Secondly, jailbreaking is not a recommended method, but if you already have a jailbroken device, you can use any location spoofing tweak on Cydia.

William Hanger is a veteran Pokémon GO player with a passion that dates back to the game's launch in 2016. Having accumulated vast experience and expertise in the world of Pokémon GO, she has turned that knowledge into invaluable resources for the Pokémon GO community., William aims to provide clear and informative articles to help users navigate the world of Pokémon GO and maximize their functionality.