Some Pokémon are region-specific or are more commonly found in certain locations. By teleporting, a player might access a Pokémon that they otherwise couldn't find in their region. Wondering how to teleport in Pokemon Go without getting banned? In this article, our editor will share some reliable tools and precautions to how to teleport safely in Pokemon Go on iPhone/Android.
Part 1. Pokemon Go Teleport Hack App on iOS/Android No Soft Ban Free Download – iGPSGo [Editor Choice]
iGPSGo is an amazing Pokemon Go teleport hack app that can help you catch rare Pokemon without any hassle. Never get flagged by Niantic with special AES encryption algorithm. Free download iGPSGo below.
iGPSGo Pokemon Go Teleport Hack App Features

Never get banned by Niantic with AES encryption algorithm.
Simulate Pokemon Go teleport movement naturally with custom route&speed.
import GPX files to use favorite Pokemon Go teleport routes.
Pokemon Go GPS joystick mode to control directions.
Compatible with All iOS & Android versions, including iOS 16 & Android 13.
It is a GPS spoofer that works on Pokemon Go and all GPS-based applications and games.
Step by step guide for how to teleport in Pokemon Go free using iGPSGo
Step 1: Download and install iGPSGo on your computer.
Step 2: Open the application and connect your phone to pc with usb cable. Pls keep your phone screen on. You also need to enable developer mode in iPhone iOS 16 or USB debugging in Android if you are using the software for the first time.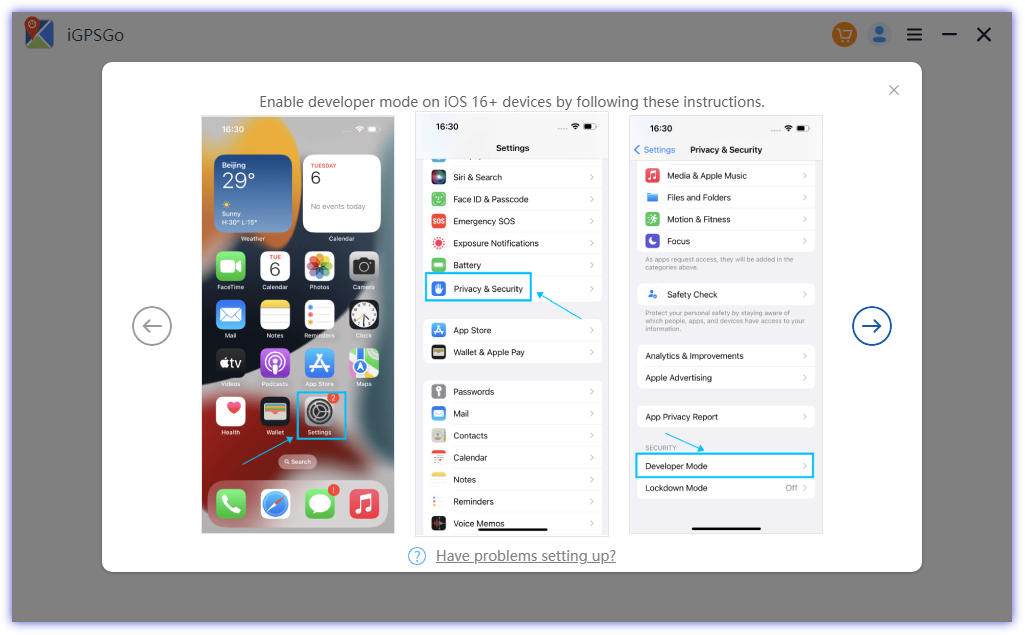 Step 3: Choose different move mode and variable speed for Pokemon Go. Now, select the location you want to teleport. Click Go.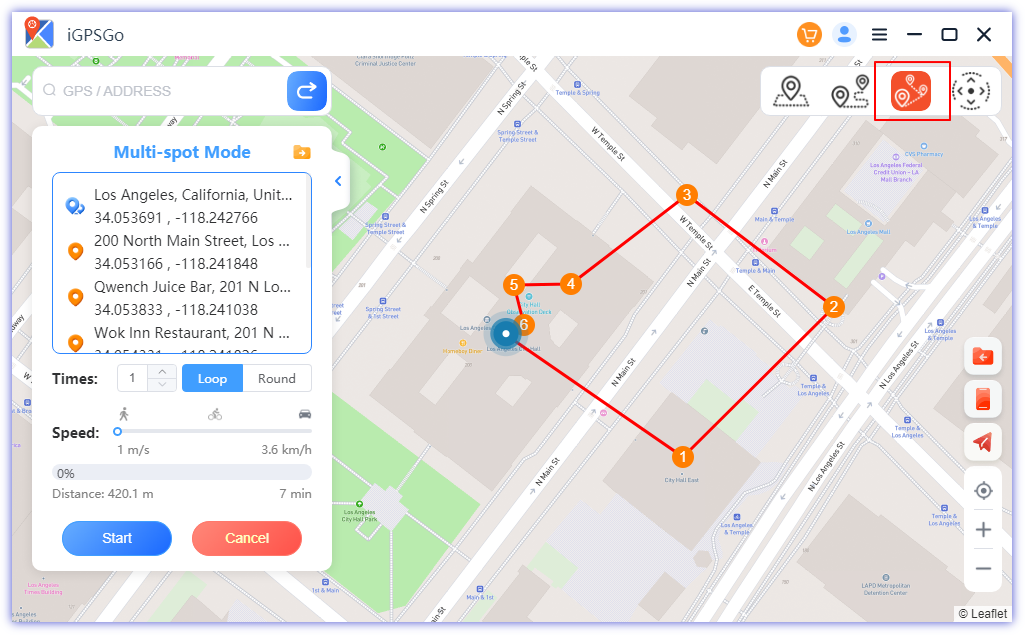 Part 2. Best Place to Teleport in Pokemon Go
Using a GPS spoofer application, you can teleport to any location in the world, but only some places are beneficial for Pokemon Go players. Some places have rare Pokemon, extra perks, special events, and tons of other features. Here is a list of some of the best spots to teleport in Pokemon Go.
New York, USA
Zaragoza, Spain
Pier 39, San Francisco, California, USA
Porto Alegre, Brazil
Chicago Lakefront
Big Ben, London
Chancay, Peru
Tokyo, Japan
Circular Quay, Sydney
Disneyland, Anaheim, United States
Millennium Park, Chicago, United States
Santa Monica Pier, Los Angeles, United States
Circular Quay, Sydney, Australia
The Colosseum in Rome, Italy
Indaial, Brazil
These are popular places where you can enjoy the game to the fullest. Use your GPS spoofer and search these locations.
Part 3. How to Teleport in Pokemon Go on Android with Free PGSharp Teleport Hack App
PGSharp is another free Pokemon Go teleport app that you can use for Android devices. There is no need to root your device; just install the APK, and you are ready to teleport in Pokemon Go.
The free version of PGSharp is available, and you can also get the premium plan for premium features. If you want to teleport without using a computer, it could be an excellent option. However, there are risks of getting banned using PGSharp.
The application offers exceptional features, such as a joystick, automatic movement, customized speeds, etc.
Here is how to teleport in Pokemon Go using PGSharp.
Step 1: Get the APK from the official website and install it on your Android device.
Step 2: Open the application on your device. Select the location you want and teleport.
Step 3: Use the joystick to move and catch your favorite Pokemon.
Part 4. How Many Times Can You Teleport in Pokemon Go
There is no restriction on the number of times you can teleport in Pokemon Go, but excessive spoofing can cause an account ban.
Naturally, it is not possible for a person to travel to multiple cities in a day, so do not teleport to various locations. Teleport to a maximum of one or two places in a day and enjoy your game without getting banned.
Part 5. How to Teleport Safely in Pokemon Go without Getting Banned
For safe teleportation, you need to consider a few things.
Firstly, do not overdo it. If the teleportation shows unnatural movement, then your account can be in danger. Even if people say they have not faced any problems, new updates can track their location spoofing record.
Secondly, after changing the location, wait for some time. Many location spoofers offer a cooldown timer, so you can wait until the timer ends. After that, you can teleport to a new location.
Most importantly, use a reliable GPS spoofer application. It is also a good idea to use VPN along with the location spoofer to change the IP address according to the location.
Part 6. Why Players Need Teleport Safely in Pokemon Go
Niantic does not allow location spoofing, so if you get caught, your account can be banned. It issues three strikes. The first strike serves as a warning, and your gameplay is restricted. The second strike is for the temporary suspension of the account, which can last 30 days. The last strike is account termination.
Thus, you should teleport safely in Pokemon Go. Otherwise, your account can be in danger, and you can lose all your progress.
Part 7. Why i can not catch pokemon after teleport? How long to wait after teleporting pokemon go
If you can't catch Pokémon after "teleporting" in Pokémon GO, it's likely because you've been hit with a "soft ban." A soft ban in Pokémon GO indicates that Niantic's system has detected some kind of unusual behavior on your account, such as moving great distances in a short amount of time, which can be indicative of GPS spoofing.
Remember, teleporting in Pokemon Go doesn't trigger cooldown. Cooldown time is the time you should wait after teleport to new location when you try to spin pokestops or catch pokemon etc. This cooldown time is based on the distance you're "teleporting."
Here's a rough guideline for cooldown time you need wait after teleporting:
1km – 1 minute
3km – 2 minutes
7km – 5 minutes
10km – 7 minutes
12km – 8 minutes
18km – 10 minutes
30km – 15 minutes
65km – 22 minutes
81km – 25 minutes
250km – 45 minutes
500km – 60 minutes
700km – 75 minutes
1,000km – 90 minutes
1,500km+ – 120 minutes
For maximum safety, many players opt to wait the max 2 hours (120 minutes) regardless of distance when teleporting, to be sure they won't trigger any red flags.
Conclusion
We have discussed how you can teleport in Pokemon Go without soft ban. If you do it correctly, you will never get caught. You can use iToolPaw iGPSGo. It is a reliable desktop tool for location spoofing. Other than that, you can try PGSharp. You can teleport to any location you want but do not teleport too much because it can lead to an account ban.

William Hanger is a veteran Pokémon GO player with a passion that dates back to the game's launch in 2016. Having accumulated vast experience and expertise in the world of Pokémon GO, she has turned that knowledge into invaluable resources for the Pokémon GO community., William aims to provide clear and informative articles to help users navigate the world of Pokémon GO and maximize their functionality.