Google Maps empowers you to access real time traffic GPS navigation and shows you the current location and transit information. Have you ever wished you could be in two places at once?
Luckily, you can spoof google maps GPS location to simply trick your friends into thinking you're on an exotic vacation. This post will show you step-by-step process to spoof google maps GPS location for iOS/Android.
Part 1. How to spoof Google Maps GPS location on iPhone/android with iGPSGo
iGPSGo location changer is a brilliant GPS spoofing tool that has won the hearts of millions of people around the globe. One of the main features of iGPSGo that can be used with Google Maps is changing your location to virtually place yourself in a different place on the map. This is particularly useful for location-based applications and games.
Step by step guide to fake Google map GPS location through IGPSGO.
Step 1: Install the iGPSGo on your computer and then connect the mobile device to your PC. Next, you'll need to start the program to begin the proceedings.
Step 2: After establishing the connection with the mobile device to the iGPSGo, you must search for the preferred GPS location you want to change in google maps. Click on the Go icon;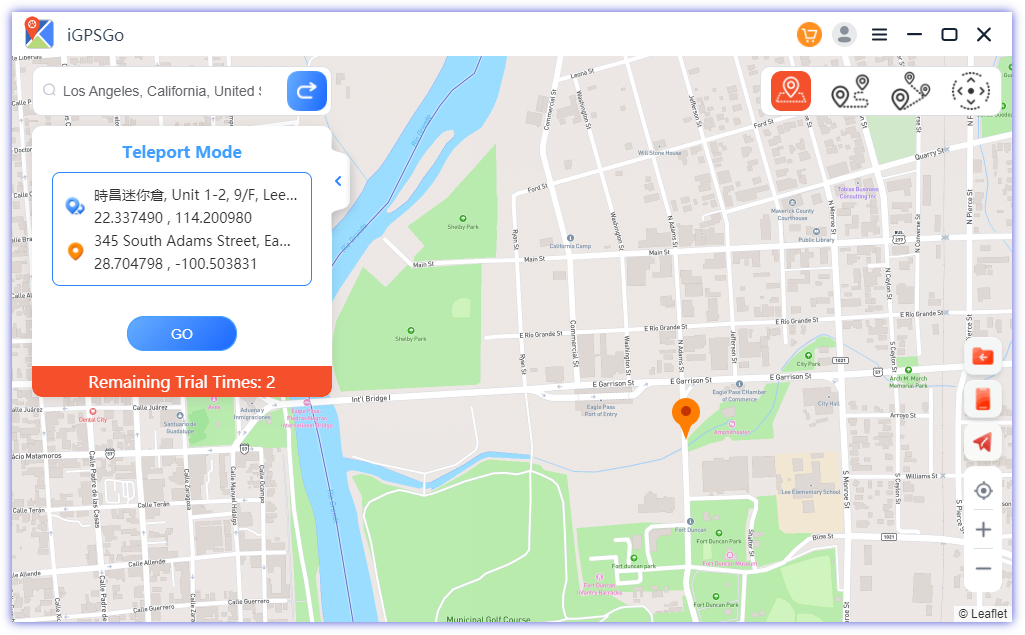 Now, open Google Maps on your iPhone. You should see your location has changed to the new location you selected in iGPSGo.
Part 2. How to share a fake live location on Google Maps
Once you've set your fake Google Maps live location using the above steps, sharing your fake live location is easy. For the feature to work, you need to have location services enabled on your device.
Step 1: Launch the Google Maps app, and tap on your profile picture located in the top-right corner of the app. From the menu that opens, select "Location Sharing"
Step 2: Choose how long you want to share your location for(from 1 hour, or "Until you turn this off").
Step 3: Select who you want to share your location with. You can share with contacts if you already log on the google account. You can also create a link to send through a messaging app like whatsapp, messenger, telegram etc if you don't have a google account.
After you've shared your location, the recipient will receive a notification with a link to view your live location on Google Maps. Your live location will be updated in real-time on their map for the duration that you've chosen to share it.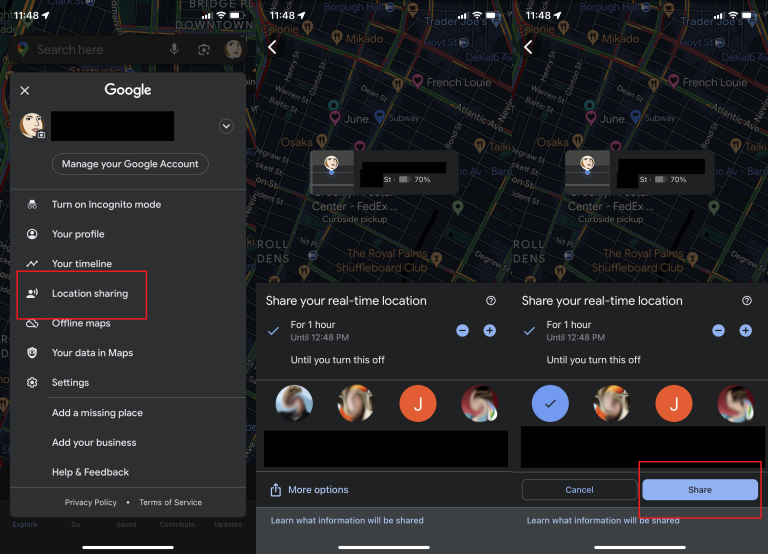 Part 3. How to fake Google Maps location on Android with fake GPS app
 You can also opt for the Fake GPS app by Lexa to change the location on Google Maps. This app can work with Google Maps to show a different location than where you are actually located. It is very useful for developers who want to test how their Android apps behave in different locations.
 Step 1: Install the Fake GPS location app and launch it afterward.
Step 2: Navigate to the map section and search for the preferred location to change the Google Map location. Click the play button, your google maps location will change.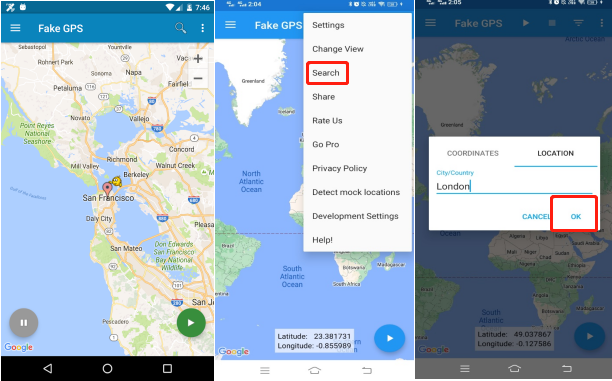 Part 4. Why do you need spoof Google Maps location
Various things could urge you to change the GPS location on Google Maps.
Privacy: Some people may want to protect their privacy by hiding their real location.
Testing: Developers often need to test how location-based apps behave in different locations around the world. Faking a GPS location can help with this.
Geo-restricted Content: In some cases, online content or services may be restricted based on location. Faking a GPS location can allow access to this content.
Location-Based Games: In location-based games like Pokémon Go, Monster Hunter Now, Orna rpg, ingress prime, users may want to access different locations to find different game elements.
Social Media: Some social media platforms allow users to tag their location when posting. Faking a GPS location can allow users to tag a location they are not actually in.
Part 5. Can You Fake Location on Google Maps to avoid tracking??
You can fake Google Maps location to prevent it from getting tracked. When your dad asks you to share your live location on Google Maps, you have the option to use a fake location.
If you are concerned about being tracked, there are other steps you can take to protect your privacy, such as:
Disabling Location Services: You can turn off location services on your device to prevent apps from accessing your location.
Incognito Mode in Google Maps: Google Maps has an "Incognito Mode" that prevents your searches and location from being saved to your Google account.
FAQs about Google Maps spoof location:
1. Why doesn't Google Maps show my location?
If you cannot see the correct location on Google Maps, it might be due to a glitch in the settings. You can fix this issue by navigating to the Google location settings and selecting Location Services. Tap on Google Location Accuracy and turn on its toggle. This way, you'll be able to detect the correct location.
Another reason maybe GPS signal. If you are indoors or in an area with a poor GPS signal, Google Maps might not be able to accurately determine your location. Try moving to a different location with a better GPS signal.
You can get more tips here: https://support.google.com/maps/thread/4414374/not-showing-my-location?hl=en
2. Google Maps keeps losing GPS signal
This issue arises when your location can't be reliably determined due to reasons like GPS signal unavailability indoors/underground, low battery, or faults in the phone or GPS unit. Some tips include checking if the problem is specific to Google Maps by using a third-party GPS status application, and checking your location permissions and battery saver features which might affect GPS functionality.
3. Google Maps report fake location
If you want to delete the fake location from Google Maps, you can file a report saying that the fake location must be removed.
Here's how to file a complaint there.
Step 1:
Launch the Google Maps and select where to report for review.
Step 2:
Choose the place, remove it, and then enter the reasons explaining why this fake location must be removed. Tap on the Submit button to get the job done.
Final Words
Faking your GPS location on Google Maps can be achieved on both iPhone and Android devices through various methods. Apart from listing the tools for PC, we've also mentioned the best GPS location spoofer in the shape of the iGPSGo. With this tool, you can alter the Google Maps GPS location without effort.

William Hanger is a veteran Pokémon GO player with a passion that dates back to the game's launch in 2016. Having accumulated vast experience and expertise in the world of Pokémon GO, she has turned that knowledge into invaluable resources for the Pokémon GO community., William aims to provide clear and informative articles to help users navigate the world of Pokémon GO and maximize their functionality.