Pikmin Bloom is a location-based game where users walk and seed the plants at different locations. They bloom it when their plants are converted into flowers. Most people love to play simulation games like this; if they use a GPS spoofer, it will become easier for them to level up the Pikmin instantly.
In this article, we will discuss how you can use different Pikmin Bloom GPS spoofers and also demonstrate the fix to a popular Pikmin Bloom GPS glitch.
Part 1. How to Spoof Pikmin Bloom GPS Joystick iOS/Android
You must use a top-notch Pikmin Bloom GPS spoofer like iGPSGo with higher security features. It will prevent you from getting caught by Niantic and provide a faster teleporting experience.
iGPSGo doesn't ask you to jailbreak or root your devices to access it. You must connect your device to your PC and teleport the location within a few steps. It integrates with any location-based apps where you want to fake the location.
If you have the coordinates of multiple points to collect big flowers in Pikmin Bloom, then you can use the iGPSGo multi-spot movement feature. This feature will help you reach the pointers you have marked in Pikmin Bloom. Let's see how this tool works.
Step 1: Download iGPSGo on your PC. Install it and launch it to proceed ahead.
Step 2: Connect your iOS/Android device via data cable to your PC and wait for a successful connection. Ensure your device is unlocked, and if you are an iOS user, don't forget to tap Trust Device to connect. For Android devices, you must enable USB debugging.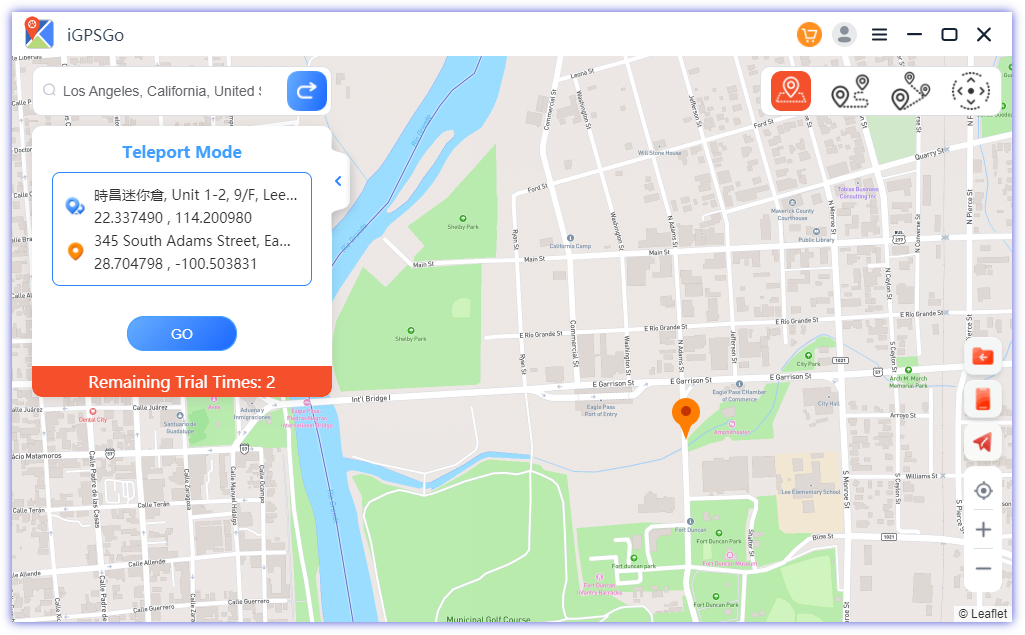 Step 3: Enter the Pikmin Bloom location you want to spoof in the search bar, or you can also use the coordinates. Click Modify Positioning to teleport the location. With your location spoofed, you can open Pikmin Bloom and play as if you were in the selected location.
Part 2. Pikmin Bloom GPS Joystick Hack For Android
This Pikmin Bloom GPS joystick hack doesn't need any desktop to teleport your location. It will support only Android devices and help you to play games like Pikmin Bloom without walking. 
GPS Joystick is commonly available on the Play Store and free to download but remember, don't use it for a longer period.
You can use the joystick feature to tweak your Pikmin Bloom location at different points. It allows you to select the joystick speed and save a GPX file to use later. Follow the simple steps to use it.
Step 1: Download GPS Joystick from the Play Store and install it.
Step 2: Enable Developer Options and then select "GPS Joystick" as the app to use for mock locations.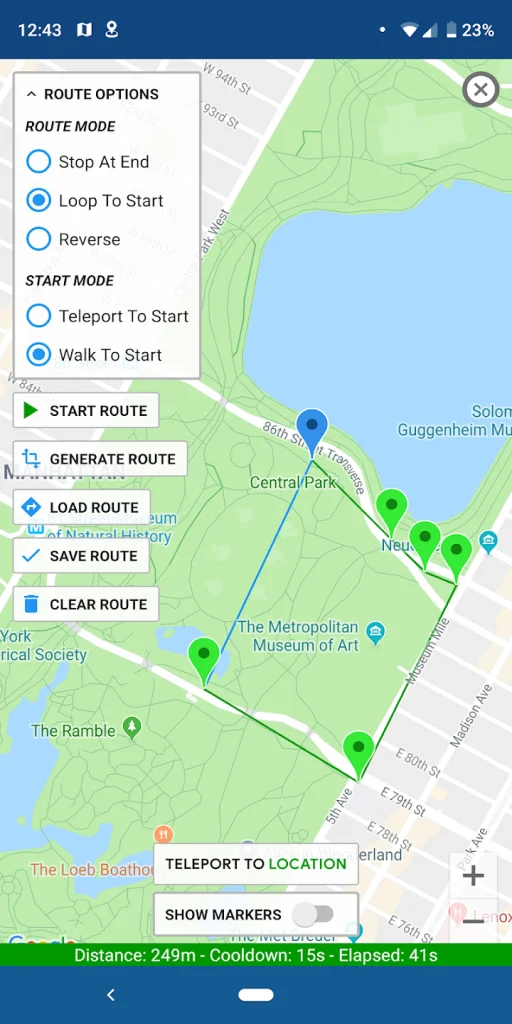 Step 3: You will see a joystick in the screen. Drag the joystick button to move your Pikmin Bloom location.
Part 3. How To Fix Pikmin Bloom Location Permission Error
You may encounter a location permission error if you have just downloaded Pikmin Bloom. There can be several ways, but we will fix it through its core solution. The first thing to remember is that you must have turned on the location of your device. You will face location issues if your location is turned off.
Let's follow the steps to fix the location permission error.
Step 1: Navigate to settings in your iOS/Android device.
Step 2: Go to the Apps and Tap Pikmin Bloom from the list.
Step 3: Tap Permissions and change the location permissions to Always Allow Access.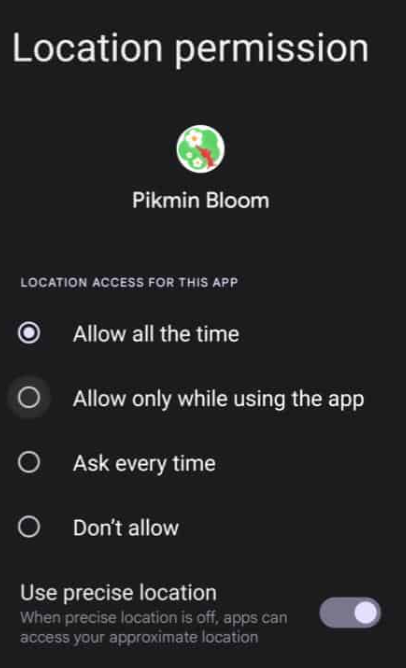 By following the steps, you can resolve the issue, but if you are still encountering it, contact the support team to resolve it sooner.
Part 4. What Is Pikmin Bloom Big Flower Locations
1 Big Flower in Pikmin Bloom is a combination of almost 300 small flowers. You can spot them by tracing their radius because they take a larger radius when combined. It gives you the rare fruits appearing around its base so you can collect them by seining your Pikmin. It's up to you to bloom a big flower into a fruit or some other rare flower.
The general locations for Pikmin Bloom Big Flowers are Shopping Malls, Popular city places, and Restaurants. Another way is to use the Wayspots of Pokémon Go, which are for Pokéstops and gyms. The same coordinates might let you navigate the big flower and mushroom locations. You can also use Ingress to find their approved wayspots.
FAQs about Pikmin Bloom's fake GPS:
1. Will You Be Banned by Spoofing Pikmin Bloom?
You might get banned by Spoofing Pikmin Bloom if you have used a low-end GPS spoofer. Secondly, it can lead to a ban if you are using it frequently. Try to use it only for a few hours, and it simulates the movements to short distances, which looks legit. The use of such fake gps apps can ruin the game experience for yourself and others. Pikmin Bloom is designed to encourage exploration of the real world, and part of the joy comes from physically traveling to new locations.
Reference: https://pikminbloom.com/en/
2. What is the difference between Pokémon GO and Pikmin Bloom?
Pokémon Go is quite competitive compared to Pikmin Bloom because, in Pokémon Go, you have to strive more to hatch the eggs.
There is automatic growth and plucking of plants in Pikmin Bloom, while in Pokémon Go, you have to walk at every location to catch the pokemon and be attentive to the Pokéstops and gyms.
Pikmin Bloom, on the other hand, is seen as less intense and more passive, making it preferable for users who want a more relaxed gaming experience. Some users express fatigue with Pokémon Go's constant updates and events, feeling pressured to keep up with new content.
3. Is there any Pikmin bloom flower planting cheat?
There is no need to use planting cheats because you can easily seed a good amount by default. Use bicycling or driving at slow speeds (around 10-15 mph) in areas like parking lots or quiet neighborhoods. This method allows for planting more flowers efficiently, as moving faster covers more ground with less overlap in the areas where flowers are planted.
Reference: https://www.reddit.com/r/PikminBloomApp/comments/164sr7u/how_to_plant_large_amounts_of_flowers/
Conclusion
Pikmin Bloom is a straightforward game that doesn't have competing challenges like Pokémon Go. If you still want it to become easier, you can use a reliable GPS spoofer like iGPSGo to quickly collect the rare items in your backpack.

William Hanger is a veteran Pokémon GO player with a passion that dates back to the game's launch in 2016. Having accumulated vast experience and expertise in the world of Pokémon GO, she has turned that knowledge into invaluable resources for the Pokémon GO community., William aims to provide clear and informative articles to help users navigate the world of Pokémon GO and maximize their functionality.