Snapchat map has a cool feature of sharing live location with others. But sometimes, it becomes a nightmare and invades your privacy. However, you can change Snap map location using GPS spoofers. You can prank your friends and maintain your privacy as well. In this article, we will share some working methods that will instantly fake your Snapchat live location.
Part 1. How to Change Snapchat Map Location to a Different Location on iPhone/Android Free with iGPSGo[Editor Choice]
To fake Snapchat location, you can not do it offically, you need a dedicated Snapchat location spoofer, we recommend iToolPaw iGPSGo. Because all mobile apps on app store don't support fake location. So you need download iGPSGo on computer. Free download iGPSGo below.
---
iGPSGo Snapchat Location Spoofer Features
100% compatible with Snapchat, does not leave any trace, so you won't get penalized for spoofing the location on Snapchat
Fake your iPhone/android location with the selected virtual location in no time
No need require jailbreak or any other modification in the iOS
Support iOS/Android, reliable and easy method to spoof location on all mobile phones.
works on all location-based social apps like Life360, Tinder and AR games like Pokemon Go.
Steps to fake Snapchat live location on iPhone/Android with iGPSGo
Step 1: Download and install the application from the iGPSGo official website.
Step 2: Open the software on your computer. On the main screen, you will see the Start button. Click on it. Then connect your iOS or Android phone to PC. iOS 16 need turn on developer mode.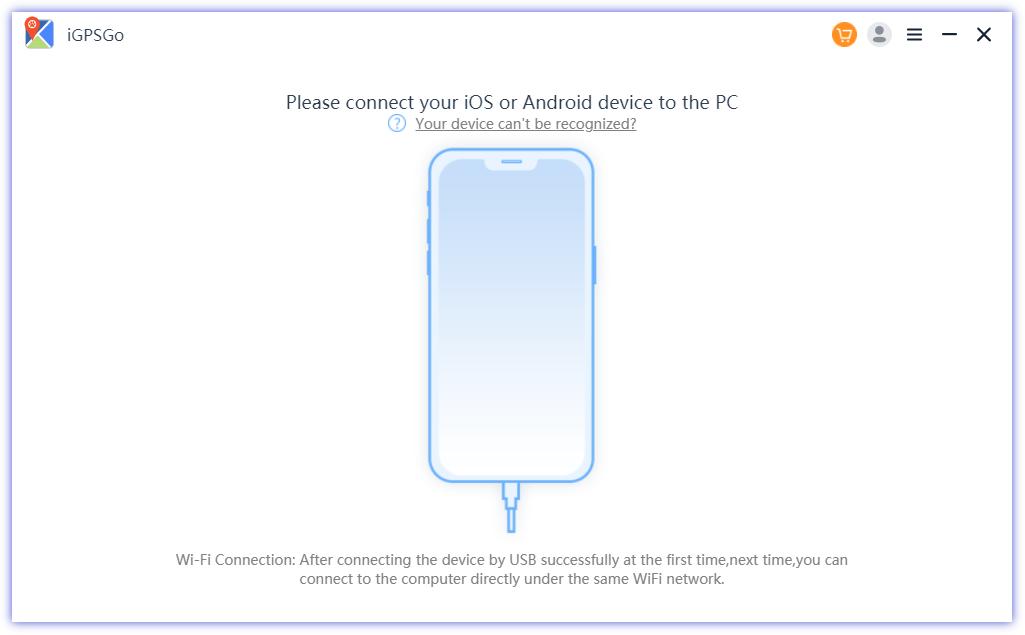 Step 3: Choose which device to connect now. You can connect multiple devices at one time. We recommend USB connect method rather than Wifi, because USB connect method provide more stable connection. Once you are done, click Connect button.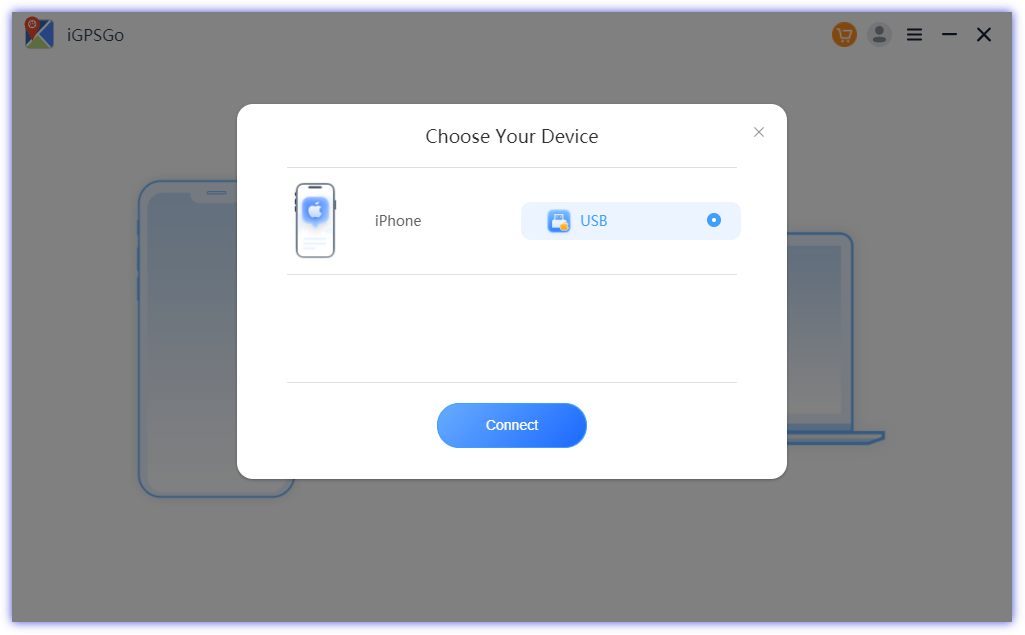 Step 4: You will have a search bar where you can enter the desired Snapchat location or GPS coordinates. You can choose several move modes like instant teleport, two-spot mode, multi spot mode, joystick mode. Choose your favorite move modes. Zoom in and select the destination point.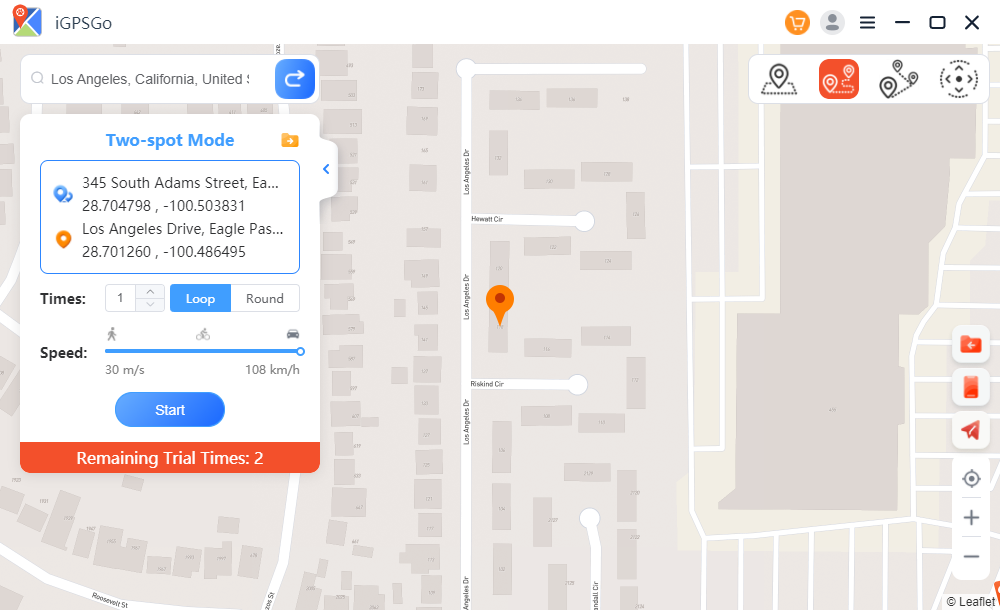 Step 5: Finally, click on the destination. Click Move Here. It will automatically start the movement between the selected points. Open your Snapchat app, you will find you already teleport to another Snapchat location.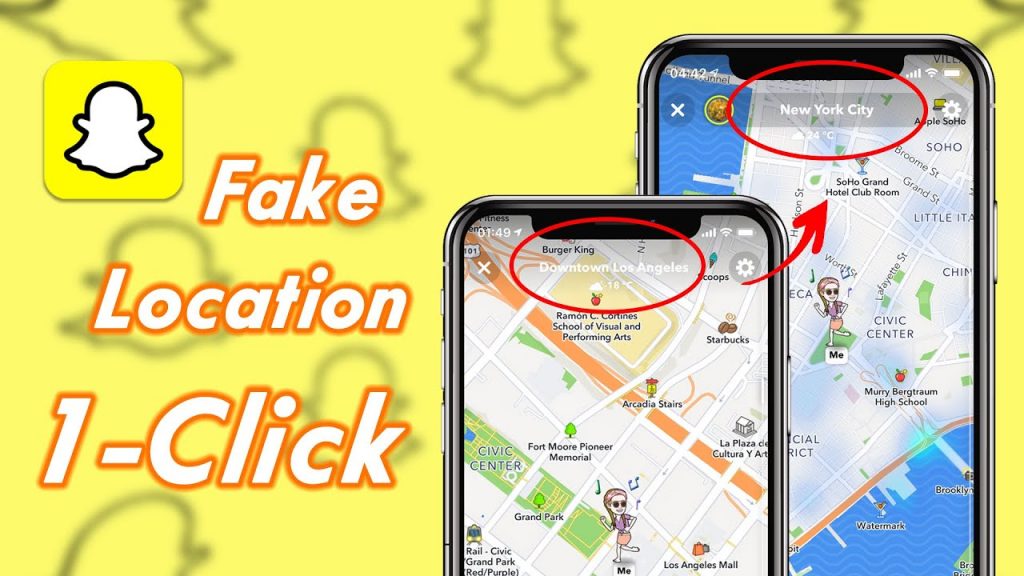 Part 2. Can You Fake Live Location on Snapchat Map with VPN
The simple answer is "No."
VPNs change your IP address and encrypt your network to ensure privacy and security. These actually mask your original IP address with the IP address of the location you have chosen. They offer an encrypted tunnel for safe data transfer. But keep in mind that they do not change your Snapchat GPS location.
You cannot change your Snapchat GPS location using a VPN because GPS and IP addresses are completely different and independent identities. Your location is predicted with the help of satellites, not the IP address. With that being said, you cannot fake your location on Snapchat map or any other location-based application or game through a VPN. The only solution for changing your GPS location is by using a GPS spoofer.
Most of the VPNs only offer IP spoofing, but SurfShark VPN is the only VPN that also change your location. However, the best and most reliable option to fake your Snapchat live location is a GPS spoofing tool because it is specifically made for the purpose of faking the real GPS location.
Part 3. How to Change Snapchat Live Location on iPhone Free Without Computer 
If you want to change Snapchat location on your iPhone without a computer, you can use Snapchat++. It is an unofficial or third-party application that gives some extra features, such as location changing and downloading photos and videos.
But the problem is that you cannot download Snapchat++ directly. You need to use Cydia Apps, which requires a jailbroken iPhone. If you do have one, you can try this method; otherwise, it is not recommended to jailbreak your device.
Step 1: Download Cydia Impactor on your computer. It is available for Windows, macOS, and other OS. You can get it from the official website for free.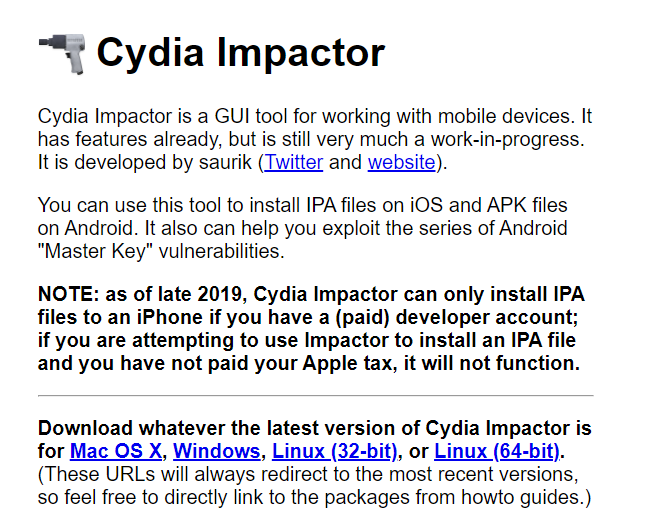 Step 2: You also need to get the IPA file of Snaptchat++. There are dozens of websites from where you can download it according to your iOS version.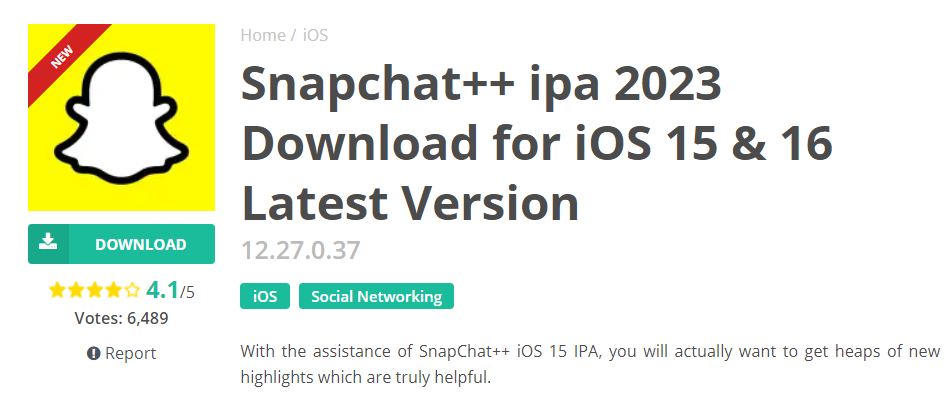 Step 3: Connect the device to your computer using a USB cable. Now, launch Cydia Impactor.
Step 4: A window will open. Select your device from the drop-down menu.
Step 5: Drag the IPA file and drop it in the Cydia Impactor window. It will ask you to enter your Apple ID. Enter the credentials. Let the software install Snapchat++ on the device.
Step 6: On your iPhone, go to Settings > General > Profile. You will see the profile that is made for the application. Tap on the profile and tap on the app. Tap Trust.
Step 7: Open the Snapchat++ application. Go to Location and select the location you want.
Part 4. How to Fake GPS Location for Snapchat without Going Anywhere on Android Free Without Computer
It is much easier to fake Snapchat live location on an Android compared to iPhones. You just need to download the Fake GPS location on your device, and it will spoof your location in no time. But keep in mind these applications are not that reliable, and your can account can also get banned.
Step 1: Go to Google Play Store and install Fake GPS.
Step 2: Open the application. Tap on the three dots icon and tap on Search.
Step 3: You will see a new window. Enter the GPS coordinates of the location. You can also enter the country or location if you don't know the coordinates.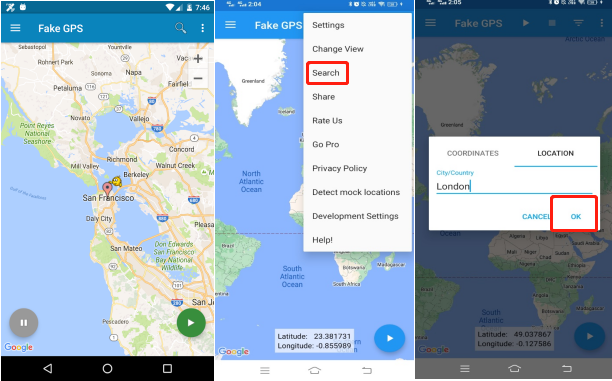 Step 4: Tap on the Play button on the screen, and your GPS location will be changed instantly.
Part 5. Comparison Which is the Best Snapchat Location Spoofer
| | | | |
| --- | --- | --- | --- |
| | iGPSGo | Cydia App (Snapchat++) | Fake GPS |
| Ease of Use | Quite Easy | Difficult | Easy |
| Reliability | Highly Reliable | Reliable | Less Reliable |
| Natural GPS Spoofing | Yes | NO | NO |
| Features | Multiple Methods and Features of GPS Spoofing | Ordinary location spoofing | Ordinary location spoofing |
| Cost | Starts from $9 (Paid but worth it) | Free but not recommended | Contains Irritating Ads and App Purchases |
| Support Platform | Support iOS/Android phone | only iOS | only Android |
Part 6. How to Send Fake Live Location on Snapchat
Sharing fake live location on Snapchat is quite easy, but before that, you must select a suitable tool to change the GPS location. You can use any of the methods we have discussed.
Step 1: Use a GPS spoofer and select the desired location.
Step 2: Once the GPS location is faked, open Snapchat.
Step 3: Go to the Friend's profile with whom you want to share the live location.
Step 4: Go to the Snap Map section and tap Share My Live Location.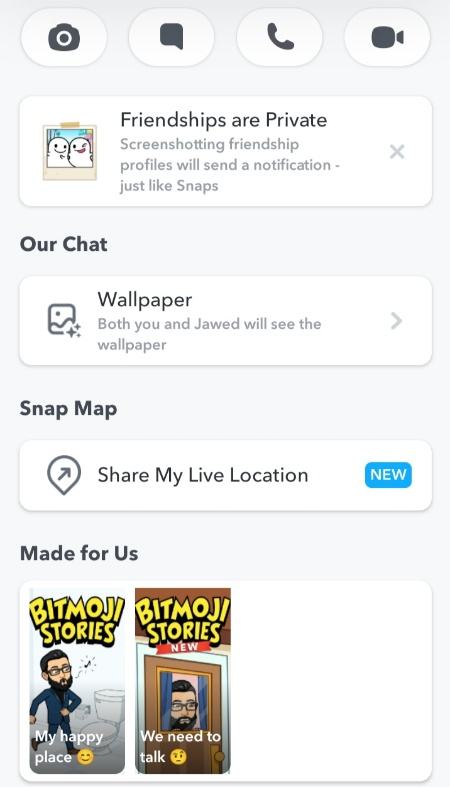 Step 5: It will ask you the duration; select whatever you want.
Congratulations, you have successfully shared a fake live location on Snapchat.
Part 7. Why Do You Need Fake Snapchat Live Location?
Snapchat users fake live locations for two reasons. The first is for privacy. They want to disclose their real location only to their loved ones, such as family and friends, and fake Snapchat live location for others.
If someone is keeping an eye on the location for any reason, a fake location is the best way to make him/her fool. They will never know where you are.
The second reason is pranking friends and showoff. They want to prank their friends by spoofing the location. Some people also do it to show off their fake trips and tours.
FAQs About Snapchat Location Spoofer
1. How to change location on Snapchat filter?
Change your location using a GPS spoofer. After that, open Snapchat. Take a photo or video and swipe on the screen. You will see the location filters. It will show your GPS location.
2. Can you manually change your location on Snapchat?
No, you cannot change your location on Snapchat manually. The application detects your GPS location and displays that on its own. If you want to change your location, you need to fake the GPS location, and then the location on Snapchat will change automatically.
3. How to change Bitmoji location on Snapchat?
For changing the Bitmoji location on Snapchat, it is a must to tweak the GPS location. Using any GPS spoofer, you can do that, and your Bitmoji location will also update on its own.
4. How to change Snapchat location to North Korea?
Use a GPS spoofer. Select North Korea as the desired location. It will change your location to North Korea. Now, go to Snapchat and share your location with anyone like you normally do.
Conclusion
If you want to change your location on Snapchat, you must fake the GPS location. You can do it by using a GPS spoofing tool, such as iGPSGo, Fake GPS, etc. We have discussed a few methods that you can use, but it is better to use a reliable method to keep your Snapchat account safe from getting banned. You can use iGPSGo as it changes your location naturally without leaving any traces. Secondly, it offers multiple toolkits that are quite useful for iPhone and iDevice owners.

William Hanger is a veteran Pokémon GO player with a passion that dates back to the game's launch in 2016. Having accumulated vast experience and expertise in the world of Pokémon GO, she has turned that knowledge into invaluable resources for the Pokémon GO community., William aims to provide clear and informative articles to help users navigate the world of Pokémon GO and maximize their functionality.