Looking for a reliable way to change Grindr location without getting banned?
There are multiple ways to change location, but most of them do not work on Grindr, while some leave traces that can lead to the banning of the account. In this article, we will explore how you can change or fake Grindr location without leaving any traces. Whether you are an Android or iOS, this article will help you spoof locations on Grindr without any hassle.
Part 1. Best Fake GPS App to Change Grindr Location on iPhone with iGPSGo with Computer
If you find Grindr to be boring or lacking excitement in your current location, and dont want to travel to other cities for more matches, you can use a Grindr location spoofer – iGPSGo. You need use iGPSGo on the pc because all app store apps dont support fake gps. Free download iGPSGo below.
iGPSGo Grindr Location Changer Features
iGPSGo is 100% compatible with Grindr. Your friends will not know you are using fake gps.
It can change your Grindr location to the desired location without leaving any traces.
You can use it to fake location on all other location-based application/game.
It support fake Grindr location on iOS/Android.
You can move with variable speed, select customized routes, import GPX files, save favorite routes, etc.
Here are a few simple steps you need to follow to spoof Grindr location on iOS with iGPSGo
Step 1: Download iGPSGo location changer and install it on your computer.
Step 2: Connect your iPhone to PC over USB cable.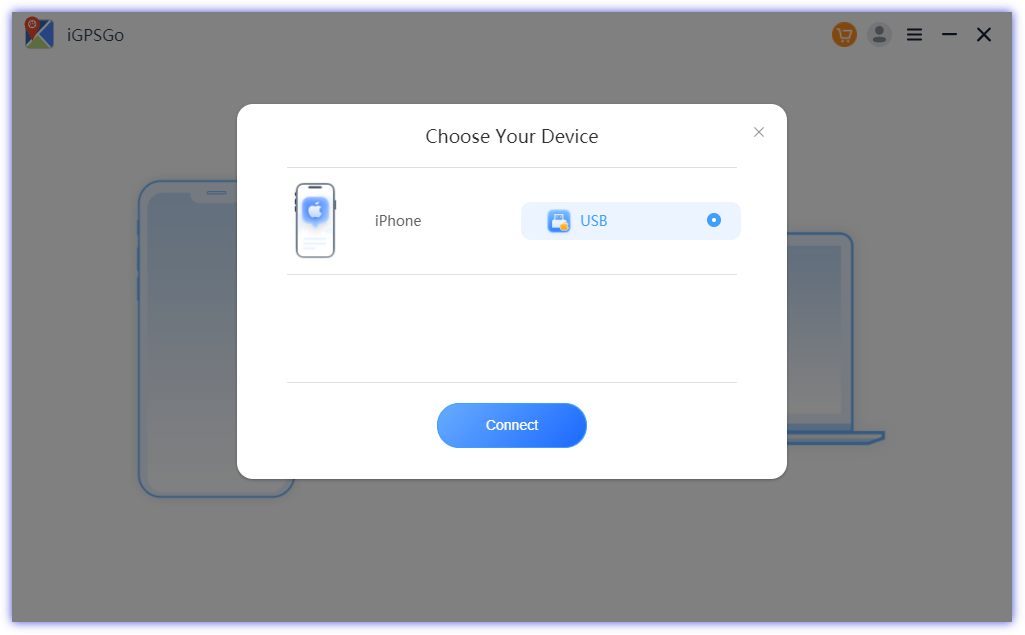 Step 3: Enter the desired grindr location on the search bar and click Go. Your grindr location will be changed instantly.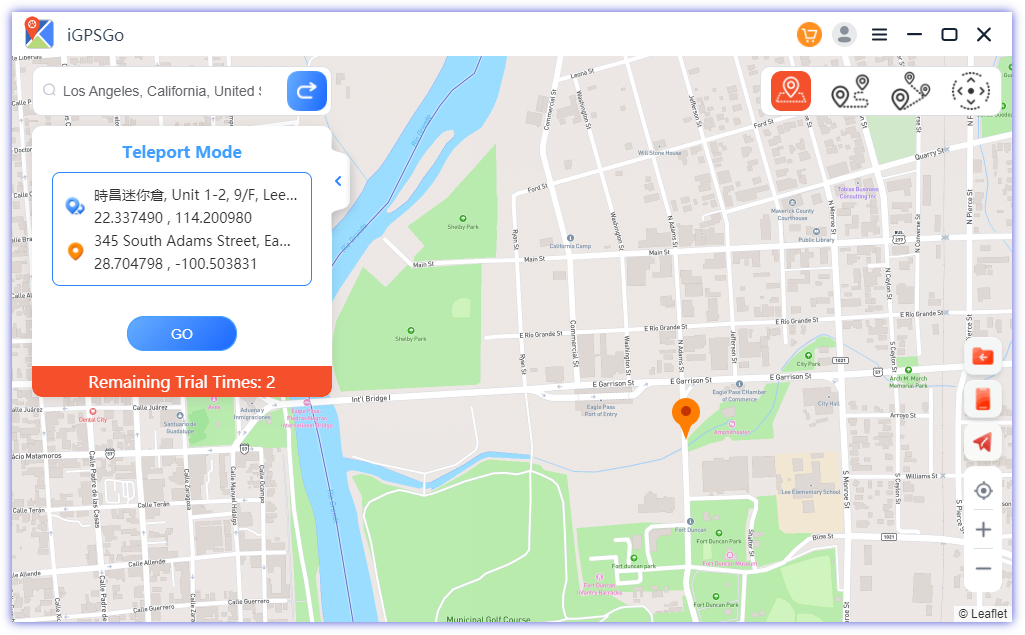 This is a simple way of changing location. You can also use other features, such as multi-spot movement, joystick, etc.
Part 2. Why Grindr Doesn't Work with Fake GPS App
1) Grindr Unable to Determine Your Location with Fake GPS
If the Fake GPS application is unable to change your location, there could be multiple reasons behind it.
Firstly, make sure the Fake GPS application is up to date. Older versions might not work on Grindr. Try to delete and reinstall the Fake GPS app. You can also try it on other location-based apps as well. If it is working well on other apps, then there could be another issue.
If Fake GPS is not working, you can use any other GPS spoofing tools. It could be due to the security and privacy of the Grindr app. It sometimes detects GPS spoofing applications and blocks them. In such a case, you can try previous versions of the Grindr app.
If nothing works, the best option is to use a reliable GPS spoofing tool, such as iGPSGo.
2) Results in Unable to Refresh Error
If you see the unable to refresh error, there could be the following reasons behind it.
Unstable or slow internet. In this case, the application won't be able to refresh itself.
Older version of the application. Try to update it. You can delete and reinstall the app.
There could be an issue with the device you are using. Try updating the iOS version.
Part 3. How to Set Fake GPS Location on Grindr on PC with Bluestacks
Grindr restricts users to fake locations on their mobile phones, and due to privacy and security, Android GPS spoofers do not work. However, you can fake location on Grindr using your PC.
For this, you need to download BlueStacks, which is an Android emulator. With this, you will be able to use the Grindr application just like you use it on your mobile phone. You can also change your location in no time.
Step 1: Download and install BlueStacks on your computer.
Step 2: Launch the application. Search for the Grindr app and open it.
Step 3: You will see the Set Location option at the bottom right corner. Click on it to set the location.
Step 4: Enable Mock Location at the top by clicking on the button. Click on Search and enter the location you want. Your selected location will appear on Grindr.
Part 4. Why Is My Grindr Location Wrong? How Accurate Is Grindr Location?
Grindr shows locations with up to 100m radius accuracy. Thus, it won't show the exact or very accurate location in all cases. But it does not mean that it will show the wrong city, country, or very far places.
If your location on Grindr is wrong, there can be several reasons behind it. Firstly, there could be a problem with the location services. Make sure it is turned on and the application has access to the location.
Secondly, if you have entered a location manually on Grindr, it will show the same location every time. You can update it manually again or set it to automatic adjustments.
Try updating the application. If you are using an older version, it could be the reason behind the wrong location. Delete the application and reinstall it. You can find more grindr location troubleshooting here: https://help.grindr.com/hc/en-us/articles/1500008383842-Location-troubleshooting
Part 5. Does Grindr Show Location When Offline?
The application fetches your location through GPS. If the application is closed and not running in the background, your latest location will not appear.
The "Offline" status is quite confusing. Some people are actually offline, while some have turned on incognito mode. This mode is available to premium subscribers. With that, the person can show the offline status to others.
Your location is not shown when you are offline on Grindr.
Part 6. How Does Grindr Location Work?
Grindr uses the GPS location of your device and shows it to others with an accuracy of a 100m radius. If your location service is turned on, it will fetch the location on its own. Otherwise, it will either show the wrong location or the manual location you have entered.
Since it is a GPS-based application, you cannot tweak the location through VPNs. These will only change the IP address, which is not feasible in the case of Grindr.
Part 7. What is the Best Grindr Location?
Several locations give suitable matches around and are quite suitable for the users. Here are the best Grindr locations in the world that you can try. If you are traveling to one of them, don't miss the chance.
Bangkok
London
Atlanta
Ho Chi Minh
Rio de Janeiro
Taipei
Barcelona
Sydney
Melbourne
São Paulo
Hong Kong
Washington
Pattaya
Tokyo
Singapore
San Francisco
Houston
Boston
Lost Angeles
Chicago
Miami
These are only a few best locations in the world, and there is a huge list. There are more than 11 million monthly active users all over the world, so you can find people in popular cities and countries. But do not try to find people in locations where the application is banned.
Part 8. The Pros and Cons of Changing Your Location on Grindr
There are various pros and cons of changing location on Grindr. You will definitely see some benefits, but there are also some disadvantages.
Pros:
By changing location, you can meet new people from new locations without leaving any traces. No one will be able to know you are spoofing the location.
It helps you get matches and people from the location you want. If you are traveling, it can be quite helpful.
You can protect your privacy by changing the location.
Cons:
Users are frequently using location-changing apps, which is not good for other users. It shows wrong locations and shows profiles that don't match.
The account can get banned if Grindr gets to know you are spoofing the location.
Conclusion
Changing location on Grindr is quite easy if you know the right application. For Android users, BlueStacks is an ideal option, and for iOS users, iGPSGo is the best. You can use these applications and spoof the Grindr location without getting caught or banned.

William Hanger is a veteran Pokémon GO player with a passion that dates back to the game's launch in 2016. Having accumulated vast experience and expertise in the world of Pokémon GO, she has turned that knowledge into invaluable resources for the Pokémon GO community., William aims to provide clear and informative articles to help users navigate the world of Pokémon GO and maximize their functionality.