Pokémon Go, the augmented reality(AR) game that took the world by storm, has always been about exploring the real world to catch virtual Pokémon. But what if you could explore the Pokémon world without actually moving? With the Fly GPS app, a tool that allows players to virtually travel anywhere in the Pokémon Go world. This article will guide you on how to use the Fly GPS app with Pokémon Go on both iPhone and Android devices.
How to Fly in Pokémon Go on iOS/Android with iGPSGo
A player in North America hears about a Pokémon that only spawns in Asia, like Japan. Instead of traveling thousands of miles, they might consider use Fly GPS to catch the regional-exclusive Pokémon. For iPhone users, the process is slightly different because Fly GPS app is not available for iPhones. To fly in the Pokemon Go for iOS, You need iGPSGo Pokemon Go spoofer.
Step by step guide for how to fly in Pokemon Go with iGPSGo
1. Firstly, download and install the iGPSGo on the computer.
2.After installing, connect your phone to your desktop with usb cable.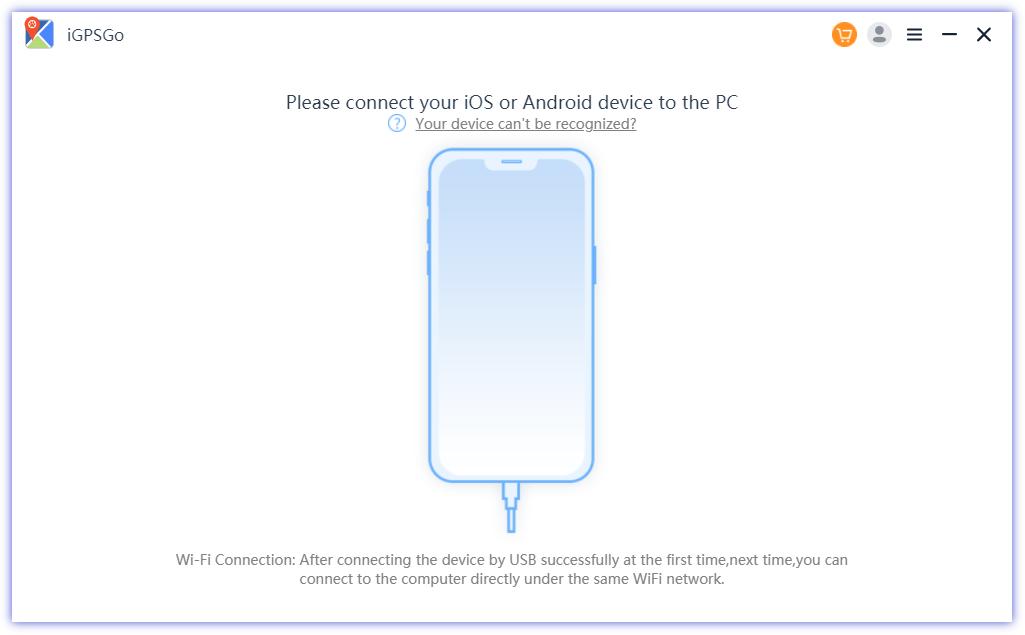 3.Open the location changer tool and select your preferred mode.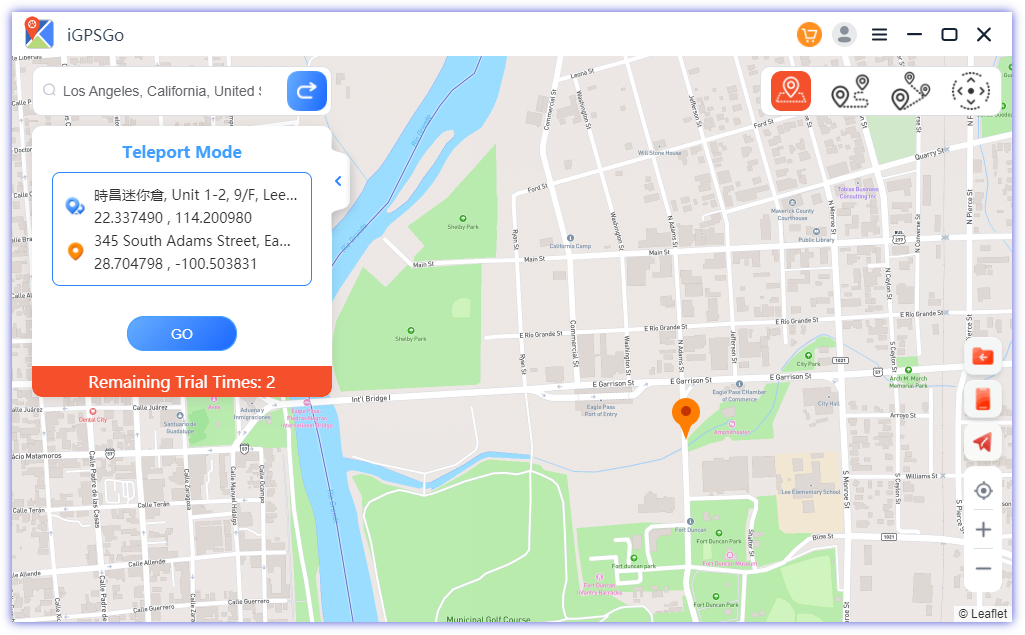 4.Enter your favourite coordinates and now you're good to go.
5.Open Pokemon Go app, you already fly to your destination location.
What is Fly GPS App?
Fly GPS is an app that was available on Android devices, which allowed users to set mock locations on their Android device. In other words, users could trick their device's GPS into believing they were in a different location than they actually were. This kind of app is also referred to as a "GPS spoofing" tool. The best part is that while many GPS spoofing apps are paid, Fly GPS is available free for Android users. Fake GPS app is very popular among Pokemon Go players because of its powerful features.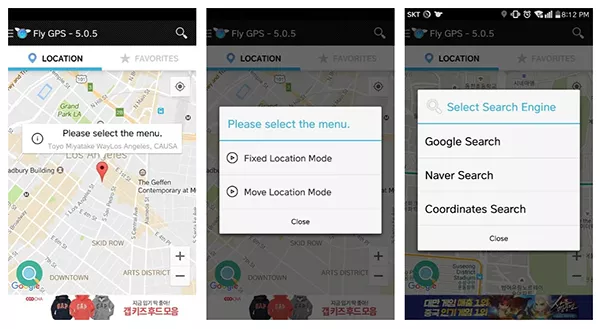 Some of Fly GPS App features included:
Joystick Navigation: Some versions of the app featured a joystick, which allowed users to "walk" around in the spoofed location. This was especially popular among Pokémon GO players to simulate walking without actually moving. It has 2 modes, fixed location mode and move location mode. You can drag the joystick to move around.
Favorite Location: The app could save favorite or frequently used locations, making it easier for users to switch between different spoofed locations.
Location Search: The ability to search for a specific location to spoof to, rather than having to know the exact coordinates. You can use google search, naver search, Coordinates Search.
How to Use Fly GPS in Pokémon Go on Android
Using Fly GPS for Pokémon Go on Android is admired for its simplicity and versatility. While the specific steps to use the application might change with updates or different versions, Here's a step-by-step guide:
Download the Fly GPS app from the Google Play Store.
Once installed, enable "Developer Mode" on your device. To do this, go to Settings > About phone > Tap on "Build number" seven times until the "Developer Mode has been enabled" message appears.
Enable mock location by navigating to Settings > Developer Options, Look for "Select mock location app" and choose "Fly GPS" from the list.
Activate your device's GPS or Location settings. Ensure "Location History" is also turned on.
Open the Fly GPS app. It will display your current location on a map. Use the search bar or the map to choose the location you want to spoof to. you can use joystick to simulate movement in your spoofed location.
After selecting a location, tap on the "please select the menu" popup.
Choose the "GPS Service Run" option from the next popup.
Finally, select "Joystick Location Mode – (Pokémon)". Your location is now spoofed, and Joystick mode for Pokémon Go is enabled.
iGPSGo vs. Fly GPS: Which is the Best Pokémon Go Fly GPS App?
| | | |
| --- | --- | --- |
| Feature | iGPSGo | Fly GPS |
| Compatibility | iPhone & Android | Only Android |
| Ease of Use | User-friendly | Simple & Intuitive |
| UI | Intuitive UI | Basic UI |
| Features | Teleportation, Joystick Mode, Route Simulation, Cooldown Timer | Teleportation, Joystick Mode |
| Safety | Regular updates to avoid bans | No Regular updates and users reported soft ban |
| Price | Paid with a free trial | Free but Ads |
| User Reviews | Generally positive with mentions of reliability | Mixed reviews, with some users facing issues |
While both apps offer similar features, iGPSGo has a slight edge due to its additional route simulation feature. However, the best app for changing location is iGPSGo.
Does Fly GPS Work for Pokémon Go?
Not 100% working. Fly GPS app can not change location successfully every time. You need root android to get Fly GPS working. In the past, this app has stopped working intermittently but you can use iGPSGo which works effectively for Pokémon Go. It allows players to virtually travel to different locations and catch Pokémon without physically moving. However, it's essential to use the app responsibly to avoid potential bans from the game.
What Does Flying Mean in Pokémon Go?
In the context of Pokémon GO, "flying" refers to GPS spoofing using third-party apps like Fly GPS, a method where players fake their GPS location to appear in a different place in the game than they are in reality. This allows players to catch Pokémon, engage in battles, collect items, or take part in events from the comfort of their homes or without actually flying to the spoofed location.
Will You Get Banned When Using Fly GPS App in Pokémon Go?
There's always a risk involved when using third-party apps with Pokémon Go. Niantic, the game's developer, has systems in place to detect and penalize players who use such apps. It's crucial to use Fly GPS and similar apps responsibly and be aware of the potential consequences. Fly GPS is not 100% safe in Pokemon Go, but you still have methods to avoid potential bans:
Avoid using any third-party software, especially those that modify or interfere with the game.
Respect the cooldown timer.
Play the game as it was intended to be played.
FAQs about Pokémon Go Fly GPS:
Q1. Can You Use Fly GPS Pokémon Go on iPhone Without Jailbreak?
Answer. Yes, you can use Fly GPS on iPhone without the need for jailbreaking. But you can not download the app from the iOS App Store, you need sideload the app to your iPhone from PC. Or you can just use iGPSGo on the computer without sideloadly. Once installed, you can easily spoof your location in Pokémon Go.
Q2. How to Fix Fly GPS Not Working or "Failed to Detect Location" in Pokémon Go?
Answer. If you encounter the "Failed to Detect Location" error while using Fly GPS, it means niantic already detect that you are using spoofing GPS.
follow these steps to fix it:
Ensure that your device's GPS or Location settings are activated.
Make sure "Location History" is turned on.
Restart the Fly GPS app and select a location within your current location's radius.
If the problem persists, consider using an alternative app like PGSharp or iGPSGo.
Root your phone is the best method to fix this problem, install hide mock location on your rooted phone.
Q3. What Does "I CAN'T FLY" Mean in a Pokémon Go Trade?
Answer. The phrase "I CAN'T FLY" in Pokémon Go trades typically refers to players who don't use location spoofing tools. It indicates that the player doesn't use apps like Fly GPS and plays the game by physically moving.
Q4. What is the Flying Type Weakness in Pokémon Go?
Answer. In Pokémon Go, Flying-type Pokémon are weak against Electric, Ice, and Rock-type moves. This means they take more damage when hit by moves of these types.
Conclusion
Using Fly GPS with Pokémon Go can significantly enhance your gaming experience, allowing you to explore new locations and catch rare Pokémon without physically moving. If you decide to use Fly GPS or any other spoofing tool, make sure to stay within your current location's radius to minimize the risk of getting banned. And always remember, the primary purpose of Pokémon Go is to explore and have fun!

William Hanger is a veteran Pokémon GO player with a passion that dates back to the game's launch in 2016. Having accumulated vast experience and expertise in the world of Pokémon GO, she has turned that knowledge into invaluable resources for the Pokémon GO community., William aims to provide clear and informative articles to help users navigate the world of Pokémon GO and maximize their functionality.