iTools location spoofer not working correctly? Looking for the right iTools alternative?
In this article, we will discuss how you can use iTools Pokemon Go spoofer correctly. We will also share an excellent alternative that you can use on Android devices. Follow the steps and enjoy Pokemon Go to the fullest.
Part 1. How to Spoof Pokemon Go Location on iPhone with iTools Virtual Location
iTools is a complete set of toolkits for iOS users. It can help them change the location of their device, make backups, manage device storage, explore files, file conversion, file transfer, etc. Using its Virtual Location tool, you can spoof location on Pokemon Go or any other game or social media application.
iTools Virtual Location offers a comprehensive solution for location spoofing. It helps you teleport to any location and select the desired route on the map. It imitates natural movement on the map and does not leave any clue of location spoofing. You get the joystick support to move on the map in real time. It offers tons of things, including GPX route files, location history, favorite list, etc.
iTools Virtual Location Plan and Pricing:
1 Bundled Package, 5 PC: US$ 59.95 (up to 5 devices)
Premium License, 5 PC: US$ 34.95 (up to 5 devices)
Platinum License, 15 PC: US$ 69.95 (up to 5 devices)
Contact iTools Virtual Location vendor to get offers on bundled packages.
Step 1: Go to the official website of iTools and download the software. Install it on your computer.
Step 2: Launch the software. You will see multiple options on the main screen. Click Virtual Location.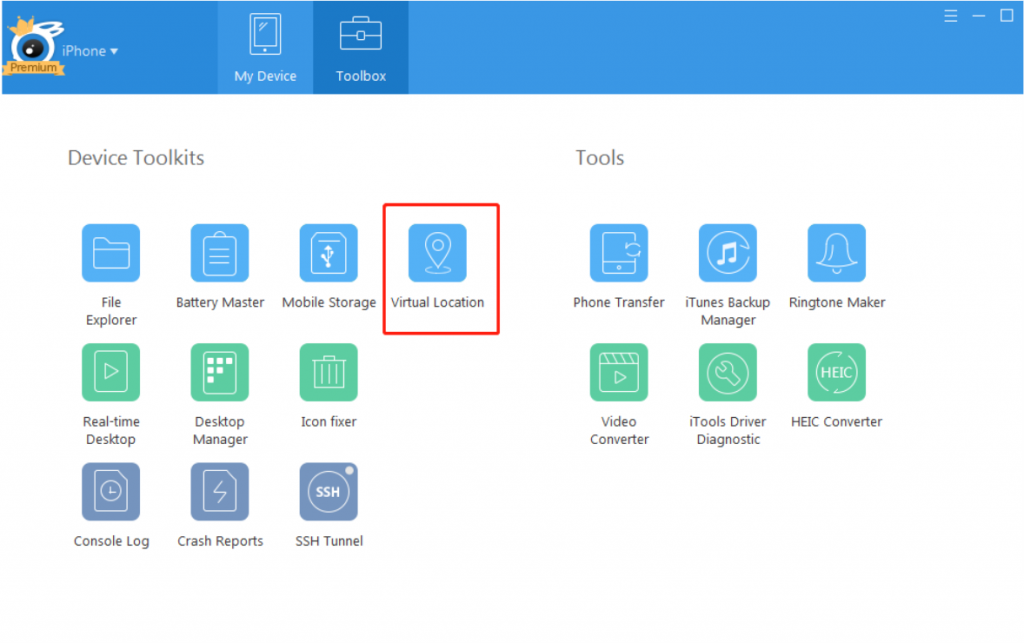 Step 3: Enter the desired location in the search bar and click Go.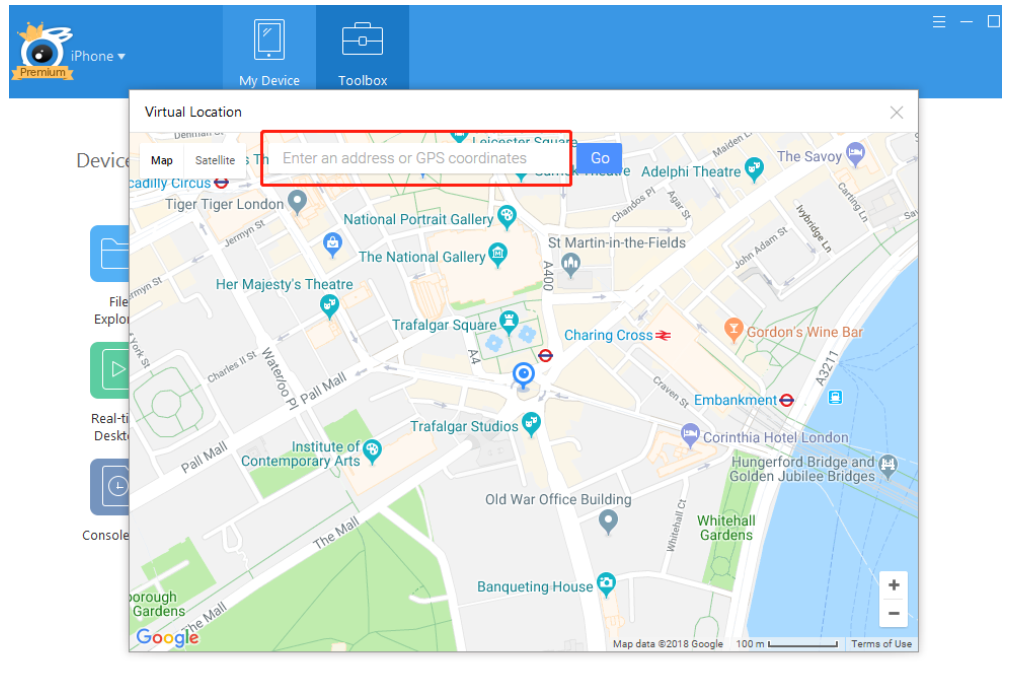 Step 4: Your location will be changed quickly and you will see the new location on the map. You can also select multiple points on the map for automatic movement. For that, click on the walking icon.
Part 2. iTools Don't Support Pokemon Go Android? Better ThinkSkySoft iTools Virtual Location Alternative for Android
iTools virtual location don't support android devices, it only supports iOS devices.
For Android devices, you can use iGPSGo location changer instead of iTools. It is also a reliable location spoofer that changes your location with one click. It offers multiple modes, customization of routes, GPS joystick, historical records, multiple device control, and tons of other features. You can use it for Pokemon Go and spoof locations without any hassle. iGPSGo supports both iOS and Android.
Step 1: Get the iGPSGo location changer software from the official website and download it.
Step 2: Launch the app and connect your Android device to the computer with usb cable.
Step 3: Now, you need to select the mode for location change. For now, select Teleport.
Step 4: Enter the desired location in the search bar and adjust the speed at the bottom of the software.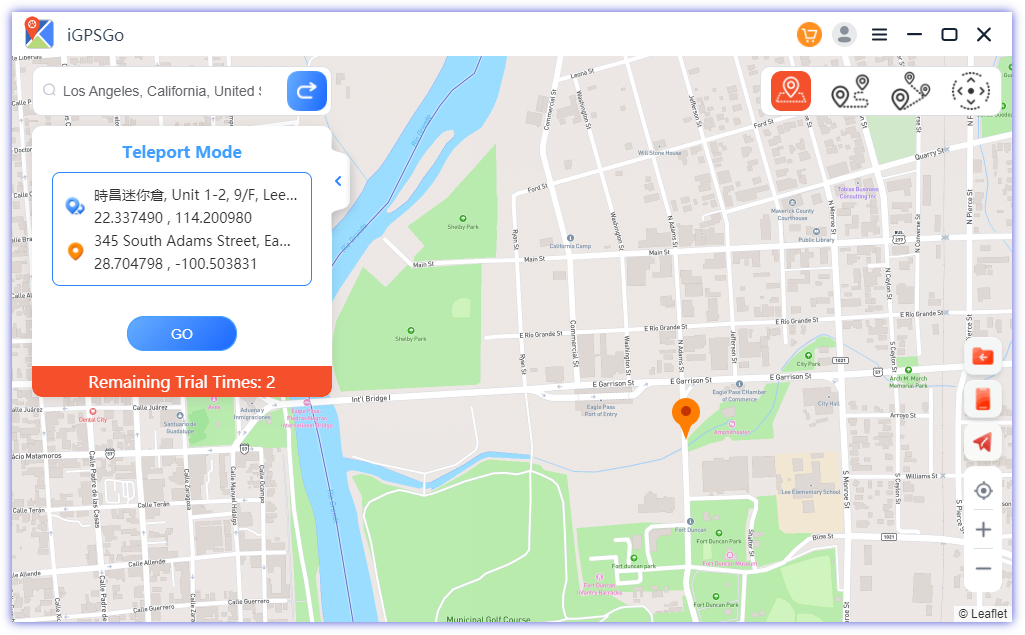 Step 5: You will see the selected location on the map. Click Move Here to change the location. You can now play Pokemon Go.
Part 3. Is iTools Virtual Location Safe for Pokemon Go Spoofing without Getting Banned
iTools Virtual Location is a safe option for Pokemon Go spoofing. You can use it without any worries. But iGPSGo is more safe than iTools virtual location.
However, you need to keep in mind that over-spoofing of location is the main reason for account ban. No matter which software or tool you use, you need to ensure that you are not overdoing it.
It is a no-brainer for Niantic to catch someone who is teleporting multiple locations in a day, which is not possible in the real world.
In simple words, you need to make your location spoofing natural. iTools helps you in this regard. You can adjust the right speed to imitate walking on the road. Secondly, there is a cooldown timer option in iTools. You can set a Timer, so when the time is up, it will automatically stop your movement on the selected route.
Part 4. iTools Location Spoofer Not Working? How to Fix iTools Developer Image Load Failed
There can be multiple reasons why iTools is not working. First, make sure you are using the latest version of iTools. Close the application and open it again, and it is better to restart the computer. If nothing works, you can also delete the app from your computer, and then install it again.
Now, check your internet connection. It should be stable to use the location spoofer of iTools.
If you see the Developer Disk Image load failed Error, it means iTools is not able to install a developer image onto your iOS device, and the process fails for some reason. You won't see the map and other things. It usually happens because of iTunes.
A Developer Disk Image (DDI) is a set of files used for iOS development. It's a vital component that developers need when they want to deploy and debug apps on iOS devices from Xcode. Try below 2 methods to fix this.
Check Developer Image Compatibility:
iTools requires a developer image that matches the version of iOS you're running on your device. For example, if your device is iOS 17.0, you'll need the developer image for iOS 17.0. Make sure the developer image you're trying to load match your iOS version.
Re-download the Developer Image:
Maybe the developer image you downloaded is corrupted. Try re-downloading appropriate developer image for your iPhone's iOS version from a trusted source and then attempt to load it again.
iTools require iTunes to work, so to solve this issue, uninstall iTunes. Restart your computer and then install iTunes again. Now, try iTools by connecting your device. It will hopefully start working.
FAQs about iTools Pokemon Go Spoofer
How to have multiple phones on iTools 4 Pokemon Go?
You can change location on multiple devices using iTools. On the virtual location screen, you will see a few options at the bottom right side of the screen. Click on the first button, which has a file icon. It will help you start multiple instances. Now, you can bind any other device to the virtual location.
Does iTools Virtual Location have a crack version?
You may find the crack version of iTools on various websites, but all these versions are unreliable. They can download malware along with the file and may not perform as you expected. So, it is better to get the software from the official website.
Is there any iTools Virtual Location license key?
When you buy a subscription or license from iTools, you get a key, which only supports one computer. Thus, you cannot share that key. The keys you will find on various websites are useless and fake. Sometimes you try to transfer windows license key to mac, you need contact itools live support, provide your email or orderid, they will help you transfer the key to new computer.
You can try below iTools License Key Latest Version
QWSDFCXV-EWRSFGC-EWGSD-EWGSDC
ESGDCXVC-WRGSFXC-WRGSFXC-WRGS
WRSDFGFH-WREGFHG-EWRGFCV-RWG
Does iTools location spoofer work in 2023?
Yes, iTools locations spoofer work in 2023. It changes the GPS location of your device instantly. You can use the teleport and other modes in the application and customize your own route. It works for social media apps, games, geo-restricted content, etc.
Conclusion
If you are an iOS user, iTools Virtual Location is a perfect option for Pokemon Go location spoofing. It safely changes your location and helps enjoy the game through multiple spoofing modes. Android users can use iGPSGo location changer for a better alternative, which is also an excellent tool. But never do over-spoofing because it can lead to account suspension.

William Hanger is a veteran Pokémon GO player with a passion that dates back to the game's launch in 2016. Having accumulated vast experience and expertise in the world of Pokémon GO, she has turned that knowledge into invaluable resources for the Pokémon GO community., William aims to provide clear and informative articles to help users navigate the world of Pokémon GO and maximize their functionality.