Walking in Pokemon Go can be tiresome, and no one wants to walk several kilometers just to catch pokemon. Fortunately, it is possible to complete the walking goals in the game using the free Pokemon Go auto walking hack. How? Read this article and trick Pokemon Go walking at your home.
Part 1: Free Pokemon Go Auto Walker Hack App for iOS to Trick Pokemon Go Thinking You Are Walking
1) iGPSGo iOS Auto Walking Hack
iGPSGo PoGo spoofer is a desktop GPS location spoofer for iOS and Android devices. It works on Pokemon Go and other games and social applications. You can import the GPX route files, imitate walking, and use the GPS joystick to control the movement on the map. It also offers customizable speeds and routes to plan your auto walk in pokemon go.
The notable feature is the cooldown timer, so you can avoid the soft ban in Pokemon Go easily.
Steps for how to use iGPSGo pokemon go auto walking hack
Step 1: Download and install iGPSGo pokemon go fake walk app on your computer.
Step 2: Connect your iOS device and enable the Developer mode. Follow the instructions on the software.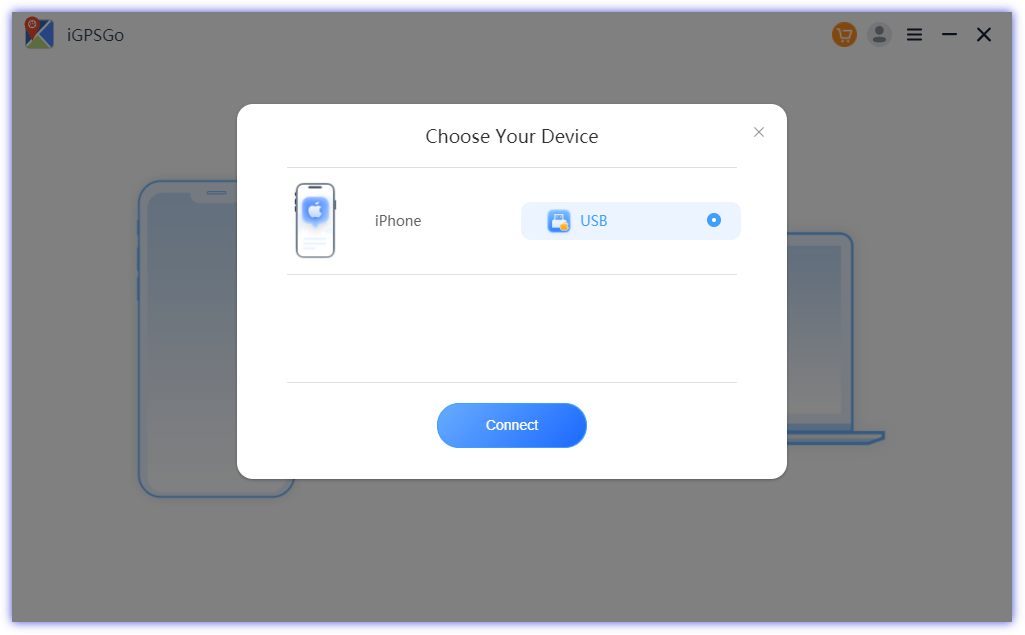 Step 3: Use Two-spot or Multi-spot modes for auto-walking in Pokemon Go. Select the destination or multiple points. Select the walking speed and click Start, then your pokemon go character will auto walk at designated route.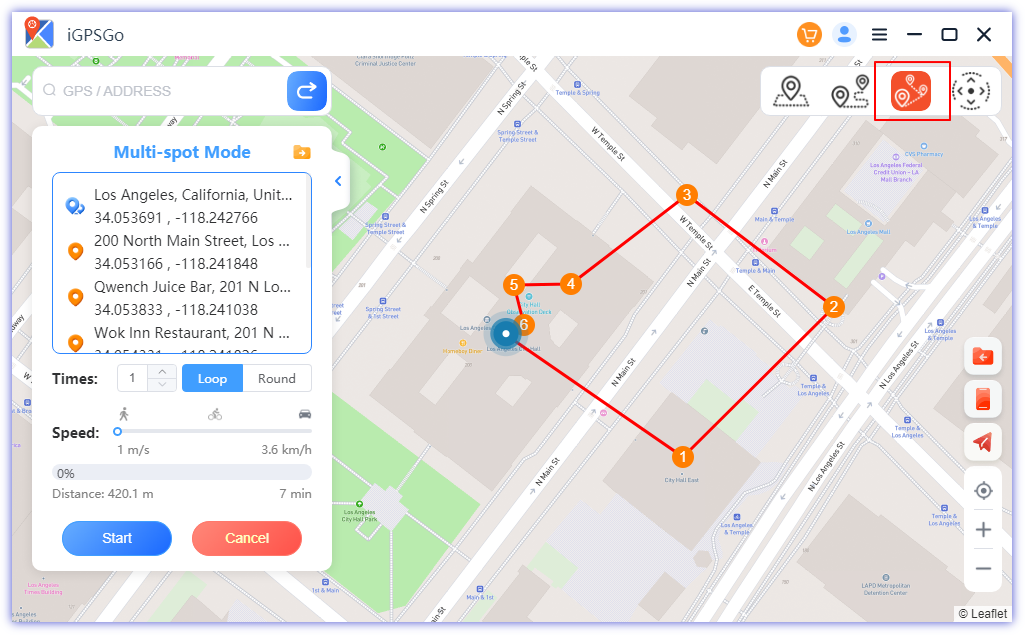 2) iPogo iOS Auto Walker App
iPogo is a trusted fake walking app for Pokemon Go players. It offers multiple extra benefits, such as location spoofing, auto-walk, auto catch/spin, spawn booster, bag cleaner, non-shiny blocker, etc. It can help you progress faster in the game. You can use ipogo's Favorite feature to select random route, then the app will automatically move your in-game character to that location. This can be useful for hatching eggs, collecting items from PokéStops, or interacting with Pokémon without physically walking around. This method is not only simpler but also keeps me moving throughout the entire Niantic day. here is the ipogo auto walk hack guide video source: https://www.youtube.com/watch?v=A1fSHkLFGng
Step 1: You need to install the iPogo auto walk app on your iOS through Signulous or Sideloadly. If your device is jailbroken, you need to use the jailbreak tweak.
Step 2: Once you install the app, open it. Log into your account.
Step 3: Open Pokemon Go. You will see new options on the side of the screen. You can either use random or specific routes in Auto-walk. Open the map icon in ipogo, zoom out, and perform a long press on a location far from where I currently am. A convenient option for auto-walking becomes available. Another approach is to employ a GPX file – there's a wealth of these available both within the app and on the iPogo Discord community.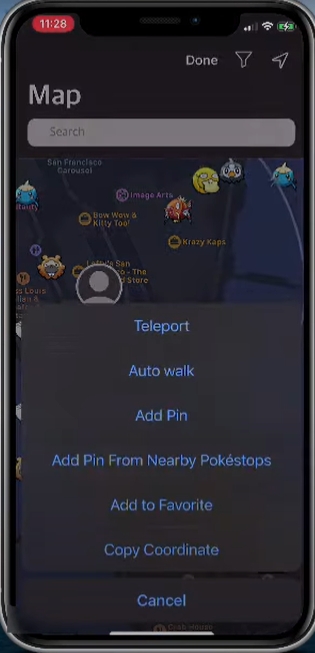 Part 2: How to Cheat the Walking System with Pokemon Go Fake Walking App Android without Root
1) PGSharp Auto Fake Walking App for Android
PGSharp is specially made for Android users to enjoy Pokemon Go to the fullest. It offers auto-walk, teleportation, GPS joystick, favorites, etc. You can use the free version first and switch to the premium $5 plan if you are satisfied.
Auto-walking in PGSharp is only possible when your screen is active; it won't work with the screen turned off. To keep it auto-walking throughout the day, you must leave your screen on. To prevent screen burn-in, you can employ a screen dimming application to reduce the screen brightness to just 1%. Make sure your pace remains at 9.3 km/h; if you walk too fast, spinning PokéStops becomes impossible.
here is the video guide for pgsharp auto walking: https://www.youtube.com/watch?v=4xrlNHKmPNk
Step 1: Download the PGSharp APK from the official website and install it on your Android device.
Step 2: Open the app and sign in to your account.
Step 3: Open the pgsharp map and select any location. Choose walking, don't choose teleport. Now you start to auto walk, you can also set your walk speed.
2) DeFit for Pokemon Go Fake Walking on Android
DeFit helps you add running activity to a fitness app. It is basically made for testing fitness applications in the development phase without walking, and it works with Google Fit and other applications. Thus, you can add running data to Google Fit, and the Google Fit data can be fetched by Pokemon Go if the Adventure Sync is enabled. Therefore, you will not have to walk anymore with this pokemon go fake walking app.
Step 1: Download and install Google Fit if you don't have it.
Step 2: Get the DeFit app from the Google Play Store.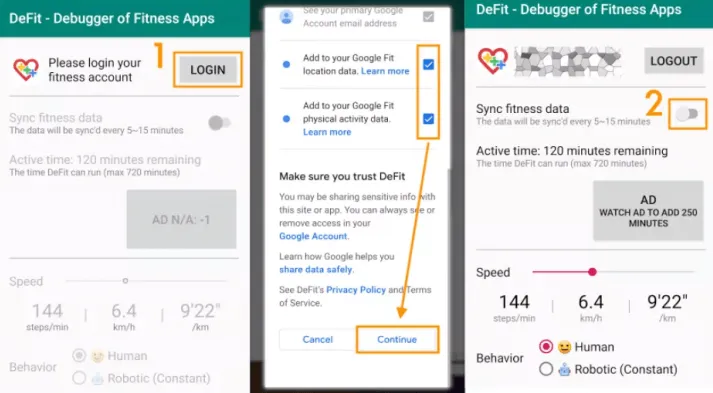 Step 3: Turn on Sync fitness data in the app.
Step 4: Now, add the walking or running activity to Google Fit. Watch ad to active the defit running time.
Step 5: Open Pokemon Go and check if the walking activity has been updated or not.
Note: Make sure open pokemon go Adventure Sync to grant permission to Pokemon Go to access data from Google Fit. In the Defit app, you can set the speed at which you want to simulate walking. For Pokémon GO, it's recommended to set it around 9-10 km/h to mimic a normal walking speed. Remember, if you set it too high, you may not be able to spin PokéStops or catch Pokémon.
3) Pokewalk for PoGo Auto Walking
Pokewalk is an excellent app if you want to meet walking targets. You only need to watch a few advertisements, and the app will automatically complete your goals.
Step 1: Install the pokewalk app from the Google Play Store.
Step 2: Open the app. Tap on the "+" button. Enter the kilometers you want to cover. You can also select Run or Walk.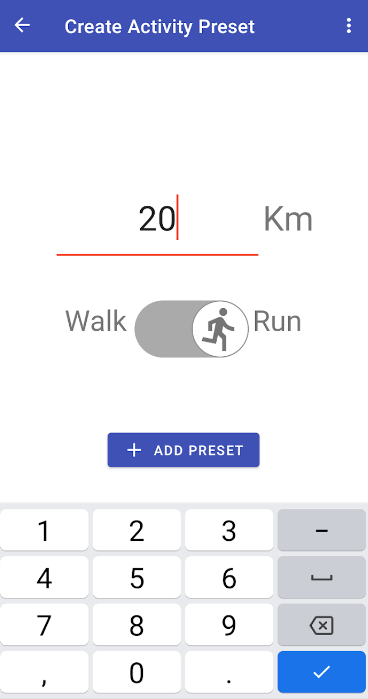 Step 3: Add Preset. You will see this preset in the activity log. Now, tap on the AD button to start this activity.
Step 4: After watching the advertisement, the app will start the activity. You can tap on the hamburger icon on the top left and check the activity in "In Progress."
Part 3: Amazon Pokemon Go Auto Walker Machine Phone Swing Hardware
A phone swing hardware is an amazing Pokemon Go auto walking hack. It can complete all your walking goals without any hassle. You can hatch as many eggs as you want and earn more through Adventure Sync.
The hardware has a stand in which you can put the device. It swings the phone back and forth, which imitates walking. These phone swings are recorded as walking distance in Pokemon Go, so you can leave the device on the swing as long as you want, and the Pokemon Go app will think you are walking on the street or road.
You can find dozens of phone swing hardware online from amazon store. Some of them are powered by batteries, while some require an adapter. These work well for Pokemon Go.
The best part is that if you are using a hardware phone swing for auto walking in pokemon go, you are not violating the Pokemon Go policies. Technically, you are not spoofing the location or using any third-party software or app to get extra advantage. With that being said, your account will be safe.
Part 4: Compare Which is the Best Free Pokemon Go Auto Fake Walking App
| | | | | |
| --- | --- | --- | --- | --- |
| | Compatibility | Account Safety | Extra Features | Pricing |
| iGPSGo | iOS/Android | Best | Yes | $9.97/mo |
| iPogo | iOS/Android | Not Safe | Yes | Free and $4.99 |
| PGSharp | Android | Not Safe | Yes | Free and $5 |
| DeFit | Android | Better | Only walking | Free |
| Pokewalk | Android | Better | Only Walking | Free |
Part 5: Will You Get Banned for Using Fake Walk App to Walk Too Much in Pokémon Go?
Niantic is quite strict when it comes to fair gameplay. It ensures all players are equally treated. But the fake walk apps give an extra advantage to the users. Using such apps is against the policy of the developer.
Thus, if you get caught, your account will suffer from a soft ban, gameplay limitations, temporary ban, or permanent ban, depending on the severity.
If you use the fake walk apps too much, Pokemon Go will easily recognize it. Any unnatural movement of the players is an alarm. Thus, make sure you use the apps within the limits.
Phone rocker don't directly interact with Pokémon GO, they only change the google fit data, so it is safe.
Part 6: Max Walk Speed in Pokemon Go? How Fast Can You Walk with Auto Walking Hack
Pokemon Go detects the speed of the movement of your device to understand whether you are waking or traveling in a car.
If you want to imitate walking, make sure to set the walking speed according to the walking speed of normal persons. It could be 3-4 miles per hour, and you can go up to 6.5 miles per hour (10.5 km/h).
If you set the speed above this limit, the application will not consider it as walking, and you will waste your time. You need to imitate natural movement, and anything unnatural can lead to bans.
FAQs About Free Pokemon Go Auto Walking Hack App
1. Can you use Pokemon Go tap to walk no jailbreak for iOS?
Yes, there are many applications that do not require jailbreak on your iOS. You can use iPogo, pgsharp, or any other suitable fake walking app for the game. iGPSGo don't support tap to walk yet, because it is designed for pc.
2. Why players use Pokemon Go auto walking hack app?
Walking several kilometers is not easy for everyone. That's why players struggle to hatch Pokemon Go eggs and complete walking goals. The best solution for this problem is a Pokemon Go walking hack. It will help you complete the required walking distance without moving.
3. Pokemon Go can you cheat to walk anywhere in the world?
Yes, it is possible to use Pokemon Go walking cheat anywhere in the world. Choose any walk application you like and use it on your Android or iOS device.
Conclusion
By using a Pokemon Go fake walking hack, you can make the game more enjoyable. The auto-walk helps you complete the required distance for egg hatching and other challenges. Without walking, you can progress in the game faster. We have shared some of the best apps for Android and iOS users. You can pick any of them after looking at their features. We have also shared the swing hardware that completes your walking goal without going against the Pokemon Go policy. Now, you pick whatever you find the best and make the game more enjoyable.

William Hanger is a veteran Pokémon GO player with a passion that dates back to the game's launch in 2016. Having accumulated vast experience and expertise in the world of Pokémon GO, she has turned that knowledge into invaluable resources for the Pokémon GO community., William aims to provide clear and informative articles to help users navigate the world of Pokémon GO and maximize their functionality.