A GPX file is an exchange format of a GPS file used to store the tracks and routes. Many people save the GPX route files to play Pokémon Go to remember where they can get mythical and legendary Pokémons.
We will guide you on using the GPX route files in Pokémon Go to plan auto walking routes. You will also learn how to create a GPX file using Google Maps.
Part 1: How to Use Pokémon Go GPX Routes File With iGPSGo
You can use Pokemon Go GPX routes to plan your auto walking routes with iGPSGo Pokemon Go Spoofer. iGPSGo is a powerful and safest GPS spoofer for location-based games and applications. It has extremely intelligent features, including GPX file import, multiple movement modes, Joystick control, and variable speed movement.
iGPSGo is compatible with the latest iOS and Android having fast-responding actions. You can customize your own route to simulate your movements accordingly. It also allows you to export your favorite GPX files.
Let's see how it works.
Step 1: Download and install the software on your PC.
Step 2: Launch it and choose the Change Location Mode. Hit Start to proceed.
Step 3: It will ask you to connect your device through a data cable.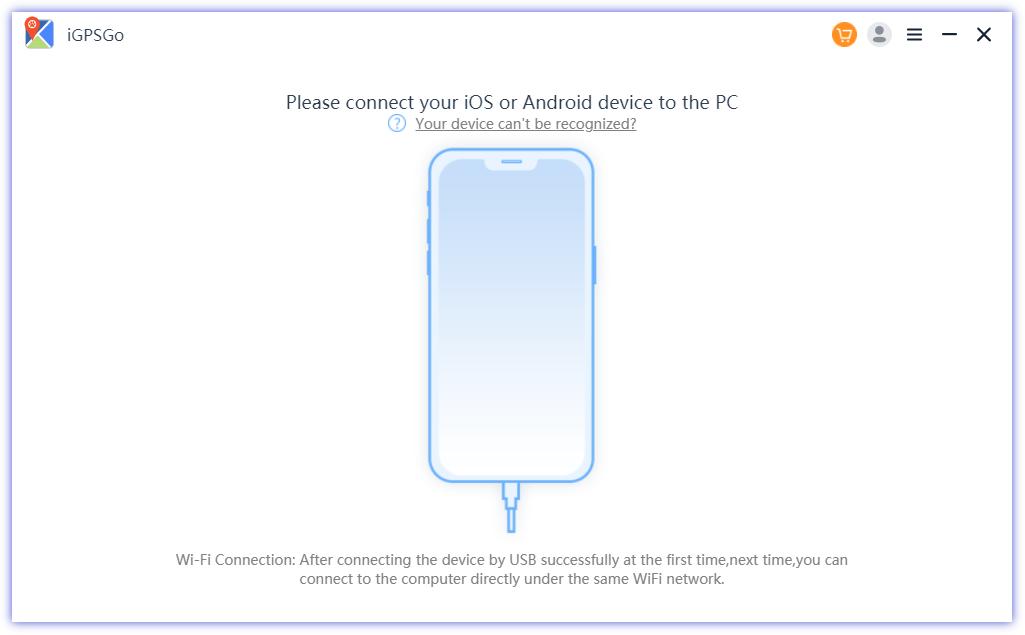 Step 4: Click the GPX button at the bottom right corner and import the Pokemon Go GPX files that you have saved from discord community. After the import, it will show the routes saved on that GPX file. Hit Go to spoof your location according to this route and launch Pokémon Go.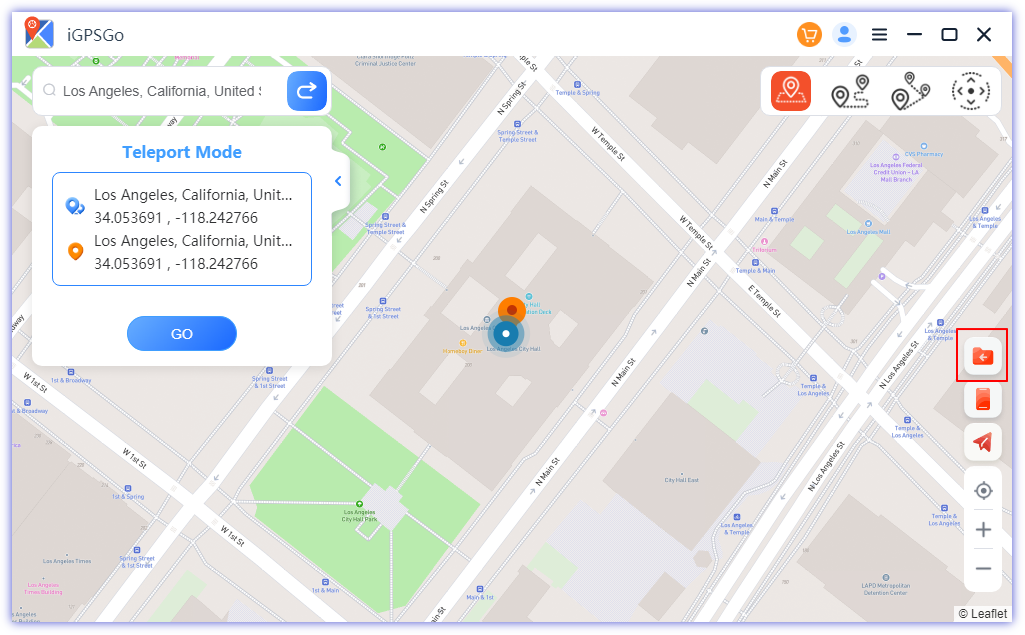 Part 2: What Is Pokémon Go GPX Routes File
The Pokémon Go GPX route file contains the spots or markers with higher chances of getting more Pokémons and other valuables. It is an XML schema designed as a common GPS data format for software applications. You can get the GPX files through multiple websites, which says that if you automate your movements through this route, you will get more premium collectibles.
You can import the GPX files to a reliable GPS spoofer, which can move your location without stepping outside your home. Many GPX files are available on the internet, but not everyone will get you to reach premium findings. So, choose the files from a reputable and expert website or make the GPX file by doing research.
Always choose the GPX file with densely populated Pokestops because it will increase your chances of getting back-to-back popular inventory items. Some Pokémon Go communities share GPX routes for popular locations with high Pokémon activity, allowing players to optimize their gameplay.
Part 3: How to Use Pokémon Go GPX Routes File With PGSharp
PGSharp is a GPS spoofer specifically created for Pokemon Go. It gives you extremely efficient tools or hacks to play Pokémon Go without hassle. It has a GPS spoofer, nearby radar, auto walk, custom GPX routes, and many more dominant features.
It has the most promising features but is unreliable because most players get banned by Niantic for using fake locations and other cheating features. It is known as a complete package to play Pokémon Go without moving anywhere.
Let's see how to use the Pokémon Go GPX routes file with PGSharp.
Step 1: Download and install PGSharp on your phone. After installing it, you will see a new Pokémon Go in your app drawer.
Step 2: Launch it, and you will see a map showing your location and other features. Tap the GPX File icon on the bottom right corner of our screen and import the file you have saved. Select a .GPX file from "GPX_Routes_05-20-2023" folder.
It will start showing the route on the whole map, so use the joystick to add the items to your inventory. Select either A to B or B to A, based on your desired direction of travel. Make sure your move speed is 9.3 km/h.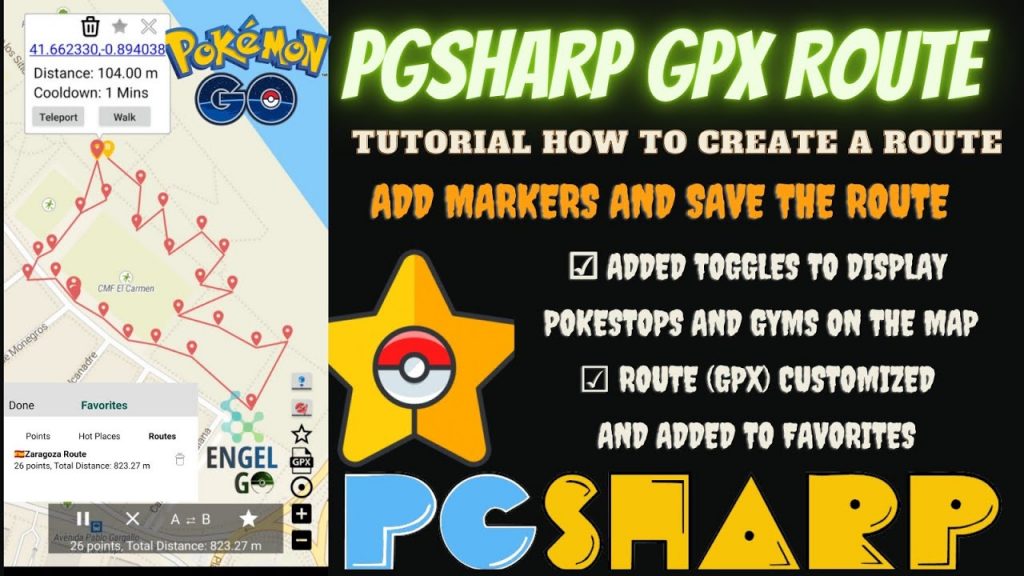 Part 4: Best Sources to Download Pokémon Go GPX Routes File
There are different ways to download the GPX routes of Pokémon Go from different websites. Each of the GPX files has different chances of getting the rare items. Let's see how each website works.
1. Download GPX Routes Pokémon Go From ARSpoofing
ARSpoofing is one of the best websites to get the top GPX routes. Many people are using it and getting positive results on every search. ARSpoofing has many features, but its GPX route files feature is incredible. You can see a Pokestop column showing the marks or stops where you can get Pokémon and other items.
Let's see how you can download the GPX files from ARSpoofing
Step 1: Launch your browser and navigate towards the ARSpoofing website.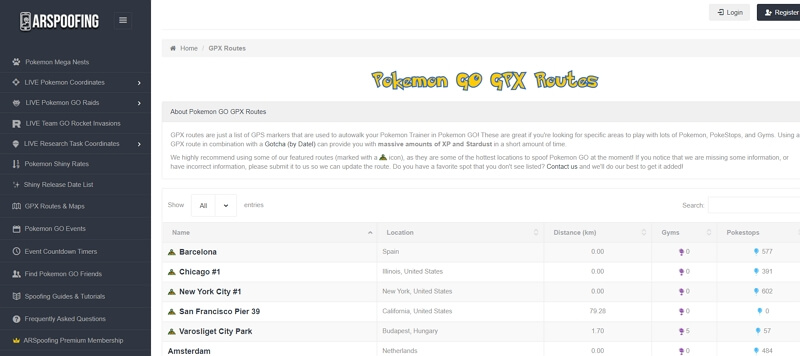 Step 2: There is a list of locations available. You can choose some of the featured routes which contain the hottest spoofing locations. Please select the location which you like and click on it.
Step 3: It will preview the map route for your confirmation. Click Download Route's GPX File and select a destination to save it.
2. Download GPX Routes Pokémon Go From Reddit
Reddit is a well-known website for discussions and sharing social news worldwide. Many Pokemon Go gamers are available like you, who help each other if someone is facing difficulty. If you post a thread, many of them will support you with valuable solutions and findings.
Try to search a thread about GPX route files in Pokémon Go and research their threads where they provide files with the guidelines to use it. We found this nice thread for Pokemon Go GPX routes with 1000+ pokestops each. You can also make a post to have a helping hand for the Pokémon Go gaming community.
3. Download GPX Routes Pokémon Go From Discord
There is a large number of official Pokémon Go Discord channels available. The members used to share different techniques and hacks for the game. You can search many useful GPX files there; hopefully, you can find the best ones.
Part 4: How To Create GPX File For Pokémon Go From Google Maps
Google Maps will give you a GPS file directly, so you must convert it through a GPS to GPX converter. It has straightforward steps for creating the initial route file from Google Maps. Follow the steps to create your desired route.
Step 1: Open Google Maps on your phone and add the destination and the departing location. You can also add different stops between them to create a specific route.
Step 2: Tap the Hamburger Icon at the top left to open the menu. Hit Share or embed map from the menu list.
Step 3: Since Google Maps doesn't natively support exporting routes to GPX files, you'll need to use a third-party tool or website to convert your route to a GPX file. Copy the generated link and use a reliable GPS to GPX converter like the GPS Visualizer to convert the file to the required format.
FAQs About Pokémon Go GPX Routes
1. How to open GPX file with GPX file viewer?
The best way to open your GPX files is through Google Maps. Follow the steps to view it.
Open the Google Maps menu and select Maps.
Tap on Create Map and select the Import button to upload your GPX file.
2. How to use GPX files on iPhone?
There are several apps available on the App Store that allow you to import and use GPX files for navigation or viewing purposes. Some popular apps include "GPX Viewer", "Maprika", and "Gaia GPS". You can learn this guide here: https://www.youtube.com/watch?v=ufKtDAFqGsE You can also use iGPSGo to use GPX route files on computer. Install the software on a computer and spoof the location using GPX route files without any hassle.
3. How to combine GPX files?
You need to use a third-party tool to combine GPX route files. There are many options, such as GPX Weaver, GPS Babel, GPX.studio, etc.
GPX Weaver is a user-friendly website designed to merge GPX files into a new file. The steps to use GPX Weaver are as follows: Download the GPX files of the routes you want to merge to your computer, Upload GPX Files and Merge with GPX Weaver, Download Merged GPX File.
Conclusion
GPX route files can be the best hacks to get greater rewards in Pokémon Go. You can create your GPX files through Google Maps and then use them using a GPS spoofing tool for Pokemon Go, such as iGPSGo or PGSharp.

William Hanger is a veteran Pokémon GO player with a passion that dates back to the game's launch in 2016. Having accumulated vast experience and expertise in the world of Pokémon GO, she has turned that knowledge into invaluable resources for the Pokémon GO community., William aims to provide clear and informative articles to help users navigate the world of Pokémon GO and maximize their functionality.