The latest Pokémon Go version has higher security and 24/7 monitoring. Niantic resists when someone tries to apply a GPS spoofer to fake their location. According to them, cheating in a game where others are playing fair is unethical.
We will guide you on how to fix Pokémon Go failed to detect the location 12 issue with different techniques. You can apply any one of them to resolve your issue.
Part 1. Why does Pokémon Go Say Failed to Detect Location 12 Error
Niantic is the developer of Pokémon Go, so they keep filtering the suspicious users. The Pokémon Go failed to detect the location 12 issue occurs when Niantic detects that you're using Mock Locations on Android phone. The unusual activities may include the following:
1. Direct Teleport to distant locations
2. Fast movements
3. Distant coordinates in the meantime
4. Excessive use of teleportation
5. Use of cheat codes
6. Use of suspicious third-party applications
You can avoid these things and prevent getting caught by Niantic. It would help if you use a professional GPS spoofer with highly covered layers of security. There are many location spoofers available, but not every tool or software is legit. We will also discuss a safe and secure tool to mock locations without root.
You can also get this error when using the default mock location feature from your mobile phone because they are unreliable. Niantic will easily catch mobile devices that have lower security levels.
Part 2. How to Fix the "Failed to Detect Location (12)" in Pokémon Go Spoof
Here are some working solutions you can try. Pick any of the suitable ones according to your situation.
1. Use Another Pokémon Go Spoofer for Android without Root
You must use a trustworthy and reliable Pokemon Go GPS spoofer like iGPSGo that Niantic cannot detect. iGPSGo can fake gps location for Pokemon Go without enable mock location features on android, so Niantic can not detect it. It is considered one of the best location spoofers because of its multiple features and instant location-changing services.
iGPSGo is a free desktop application that has a user-friendly interface and features. The features include teleport mode, joystick mode, Two-spot mode, and Multi-spot mode; each is equally important for different purposes.
Changing your location from one place to another takes a few seconds. Let's see how it works.
Step 1: Download the tool and install it on your PC. It will ask you to connect your device via a data cable.
Step 2: After a successful connection, a prompt will ask to download the compatible driver to continue using the software. Tap the Download button.
Step 3: Select the Teleport Mode icon and search for the location where you want to move.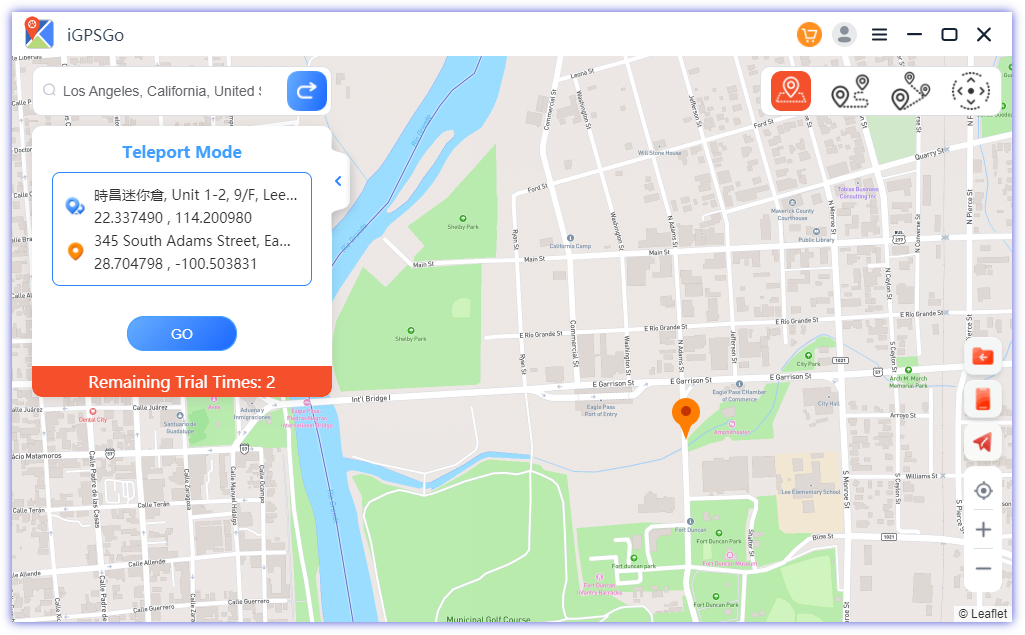 Step 4: It will open a prompt box showing the current location and destination. Hit Move to change your location to the desired place.
2. Disable Mock Location Feature from Developer Settings
Failed to detect location 12 error in pokemon go means niantic already detect you are using mock location. So you need turn off mock location. To turn off the mock location feature, you must enable the developer options first because it is hidden in every mobile. It can be visible through a short trick, and you can easily disable the mock location feature. After turn off mock location features, if you still need fake gps for pokemon go, you need use some tools like iGPSGo without root.
Step 1: Open Settings from your phone menu and scroll down to the bottom. Open the About Phone option and tap Software Information.
Step 2: Find the Build Number option and tap it seven times. It will directly enable the developer options. Now get back to the setting and go to the Developer Options.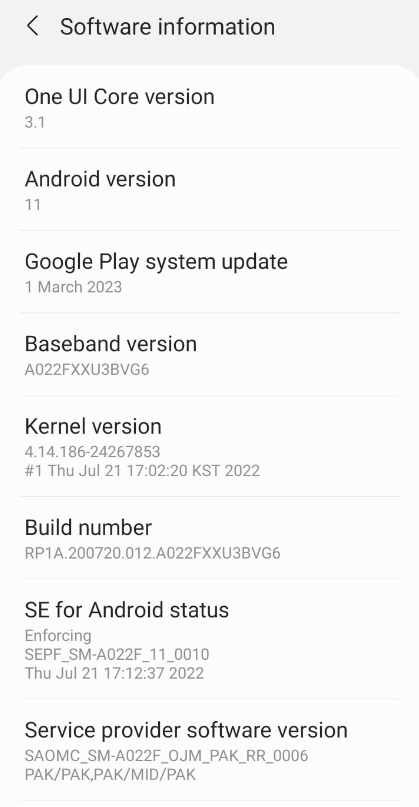 Step 3: Tap Select Mock Location App and set it to Nothing. Launch the Pokémon Go to check if failed to detect location 12 error fixes or not.
3. Root Your Android and Install LSPosed Hide Mock Location
Many player need hide mock location to avoid failed to detect location 12 error in pokemon go. To hide mock location features if you still need spoof gps for pokemon go, you need root your android phone, you can use the LSPosed module store. It will help you hide the information about Mock Location.
Step 1: Install hide mock location module from LSPosed module store.
Step 2: Enable it and restart your device. you can view the "Test Location Data" page to check the status of the mock location setting.
Now, you are ready to mock the location using your device, and the information will remain hidden.
4. Clear Pokémon Go Cache Data
Sometimes, the cache data will be much larger and start to cause malfunction in the Pokemon Go application, so it failed to detect location data. You must clear the cache data of every app to avoid bugs and errors. Some people think it will wipe the real data, but it only clears the cache that takes the activities using the app.
Step 1: Open Settings and go to Apps. Search Pokémon Go and open it.
Step 2: Hit Clear Cache at the bottom right corner. It will instantly wipe the cache data.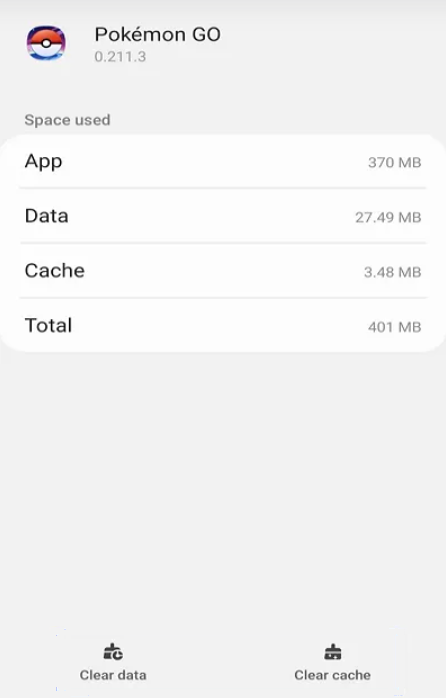 5. Restart Pokémon Go
Restarting Pokémon Go can also resolve the pokemon go failed to detect location 12 issue because sometimes it may receive some bugs while opening or running. Restart pokemon go app will let it refresh the location data again.
If your Pokémon Go is running, press the home button to close it and remove it from the recent apps. Then, re-open it and check whether the issue is resolved or not. If it is still not fetching the location, try to log out and log in again.
6. Turn on Location Services
Sometimes, the location services of your mobile are disabled, and Pokémon Go cannot fetch the location, so it display failed to detect location 12 error. Turning on the location services while playing or using the location-based applications is necessary. You can drop the notification bar and tap the location icon to turn it on. If you want to turn it on from the setting, then follow the steps below.
Step 1: Open Settings and go to location.
Step 2: Tap on it to turn on your location.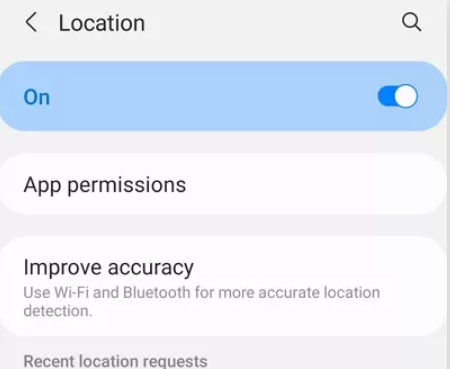 7. Update Pokémon Go to the latest version
Maybe your Pokémon Go is outdated, so you are unable to detect the location in pokemon go. The older versions may have some bugs and issues fixed in the latest versions. If you are very familiar with updating the apps from the Appstore, then you will not find any difficulty updating it. Let's see the steps.
Step 1: Open your Google Play store and search Pokémon Go on it.
Step 2: Tap the Update button.
If updating doesn't work, then try to reinstall it.
8. Disable Find My Device Options
Disabling find my device can be another fix to the Pokémon Go failed to detect the location 12 issue. Follow the steps to deactivate it.
Step 1: Open Settings from the main menu and tap Security and Privacy.
Step 2: Look for Find My Device and tap on it. Tap Use Find My Device to turn it off.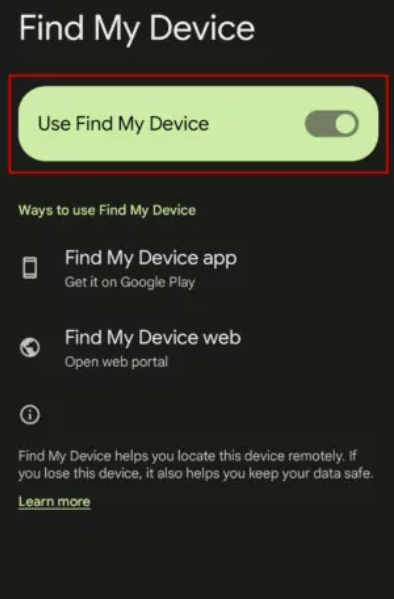 Part 3. What is the significance of the Failed to Detect Location 12 error in Pokémon Go?
The location 12 error will be shown to a user when Niantic gets suspicious location movements. It is reported that the user rapidly makes a sudden change and simultaneous movements from one place to different places.
It is caused by many reasons, such as location services turned off or poor GPS signals, but it usually occurs when someone uses a non-reliable GPS spoofer. You must be aware of that error and use reliable GPS spoofers. Niantic uses many methods to prevent player using gps spoofers, they pop up the failed to detect location 12 error in pokemon go app to let players know spoofing is not legit, they will get flagged and get banned.
Part 4. Can you still play Pokémon Go when Failed to Detect Location 12 pops up?
Yes, you can still play if Pokémon Go failed to detect the location 12 issue pops up. However It means that Niantic has caught you are using Mock location, which is considered cheating in the game, niantic already flagged your account you will get banned soon.
If you still want to play Pokémon Go, then use a reliable location spoofer that cannot get caught by Niantic. You can also root your mobile phone because rooting the phone can allow you to use Pokémon Go without getting caught.
Conclusion
To avoid the Pokémon Go failed to detect the location 12 issue, you must follow the techniques discussed in the article. It usually happens when you try to mock the real location on android phone. If you still want to use a location spoofer, use iGPSGo, which is safe and never causes any error or ban.

William Hanger is a veteran Pokémon GO player with a passion that dates back to the game's launch in 2016. Having accumulated vast experience and expertise in the world of Pokémon GO, she has turned that knowledge into invaluable resources for the Pokémon GO community., William aims to provide clear and informative articles to help users navigate the world of Pokémon GO and maximize their functionality.